Kessie agent meets with Maldini – AC Milan stance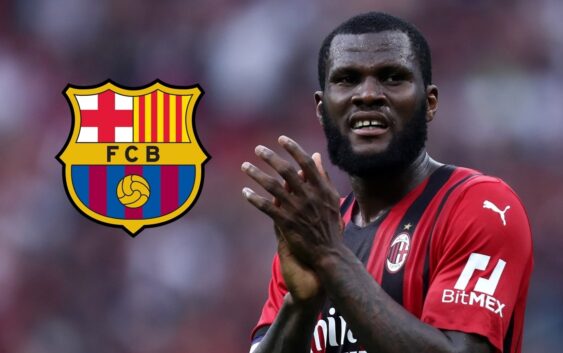 Franck Kessie wants to return at AC Milan in January. The agent of the Ivorian met with Maldini to discuss a potential move back.
Last summer, AC Milan experienced another tiring renewal saga after the one with Gianluigi Donnarumma. Franck Kessie made a stunning U-turn after having publicly expressed his love for the club and promised to sign a new contract. At the end, he refused to pen a new agreement and eventually joined Barcelona on a free transfer just like Donnarumma and Calhanoglu had done before him.

Kessie got the contract he was asking from Barcelona but he paid a heavy price for it. The first six months of the Ivorian midfielder in Spain have been a total disappointment with Kessie's playing time reduced drastically. He is just a substitute under Xavi Hernandez seeing the pitch for a meager total of 485 minutes on the pitch.
For the Spanish coach, Gabi, Pedri and Busquets are the undisputed starting trio and that will not change any time soon. Franck Kessie has deeply regretted the decision to leave AC Milan for Barcelona. So much so that he is desperate to return at the Rossoneri during the January transfer window and is already moving on that.
After some initial inquires, Kessie's agent, George Atangana, sent his close collaborator Gaby Mudingayi to Casa Milan. Paolo Maldini met with the former Inter and Lazio midfielder. The relationship between Maldini and Atangana is non-existent and Franck's agent is no longer welcomed in his offices.
Mudingayi was selected to conduct talks and offer AC Milan the possibility to take back Franck Kessie on loan until the end of the season. While it may be a tempting proposal on paper, Milan have zero interest in signing back the 25-year-old. The management has been clear the Kessie is a closed chapter and that will not change anytime soon.
---
READ MORE: Three AC Milan players to leave and make room for 2 new signings