Louis Vuitton owner prepares 1 billion offer for AC Milan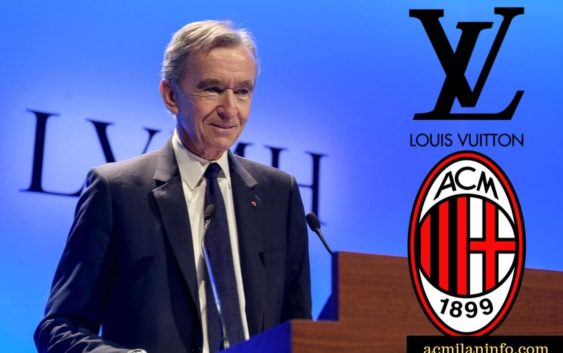 French billionaire Bernard Arnault, owner of the LVMH-Louis Vuitton group, is offering one billion euros to buy
AC Milan from Elliot.
AC Milan could soon change ownership with the Louis Vuitton group interested in acquiring the Rossoneri club. Bernard Arnault, owner of the LVMH-Louis Vuitton group, is planning to offer 1 billion euros to acquire the entire shares of AC Milan, currently in the hands of Elliott Management Corporation.
LVMH-Louis Vuitton is the biggest multinational luxury goods conglomerate headquartered in Paris, France. The empire of Arnault controls 70 luxury brands. In recent years Arnault has overtaken Warren Buffett (US businessman) in the list of the richest men in the world and currently sits in third place behind Jeff Bezos (founder of Amazon) and Bill Gates (founder of Microsoft).
The 70-year-old French entrepreneur has a net worth of $102 billion. Except Louis Vuitton, the other brands owned by Bernard Arnault are Moet & Chandon, Dom Perignon, Hennessy, Dior and Bvlgari. Il Corriere dello Sport first broke the news in July and, if then Arnault denied rumors about an agreement, the French have been quiet this time.
According to Il Messaggero, in recent weeks there have been contacts between the parties and Arnault aims to close a deal near the end of this season, on May 2020. The total cost of the acquisition of AC Milan will be just over 1 billion euros according to rumors.
According to reports, the owner of Louis Vuitton has outlined an ambitious project for AC Milan. The French giant has prepared a detailed business plan to increase turnover through major sponsorships. And in this sense, being an entrepreneur who owns over 70 brands and with a very high turnover, in terms of sponsors the club could make a big leap in quality. Money that can be reinvested freely on the transfer market without worrying about UEFA of the Financial Fair Play.
---
READ MORE: FIFA 20: AC Milan player ratings