Maldini makes strong criticism for Rangnick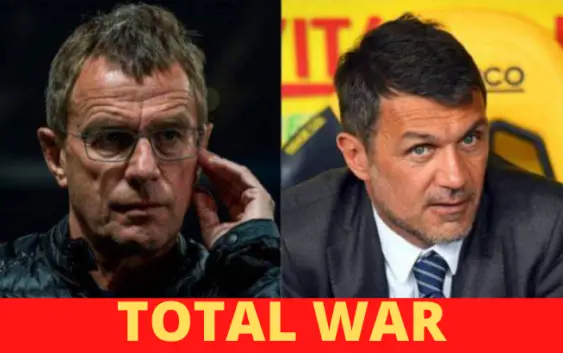 Paolo Maldini has not remained silent after Ralf Rangnick's recent interview on his possible appointment as next AC Milan coach.
When rumors first emerged that Ivan Gazids had met with Ralf Rangnick and had offered him the chance to become the new coach of AC Milan in the winter, Paolo Maldini openly criticized the German coach as "not an ideal profile fro Milan".
In recent days Rangnick has been very active on the German press talking about AC Milan. "There has been interest from AC Milan but with the Coronavirus situation there are other things to consider, besides thinking if Ralf Rangnick is the right man for them or vice versa", he declared in an interview with Mitteldeutsche Zeitung.
In the same interview Ragnick demanded full decision making power at the Rosssoneri. "If theoretically I have to think about going somewhere else, I should to be able to do things my way". Inappropriate words that have caused the strong reaction of Maldini who invites the German to learn respect before he learns Italian.
"Having never spoken to Rangnick, I do not understand on what basis his statements are based, also because I have never been told anything about the ownership. Speaking of a role with full managerial powers in both the sporting and technical areas, he invades areas where professionals with regular work contracts.
I have some advice for him, before learning Italian he should review the general concepts of respect, as there are colleagues who, despite the many difficulties of the moment, are trying to finish the season in a very professional way, putting the best of Milan before their professional pride".
Once again Paolo Maldini openly attacks Ralf Ragnick strongly expressing his disapproval of the German coach. At the same it becomes clear that the two could not coexist at the Rossoneri. Other in the Italian media have branded Ragnick's comments as a form of pressure for AC Milan to close an agreement quickly. At this point the club must come out with an official statement to clarify its position.
---
READ MORE: AC Milan respond to Paqueta offer