Milan: Andre Silva, Montolivo, San Siro and… 5 reasons to believe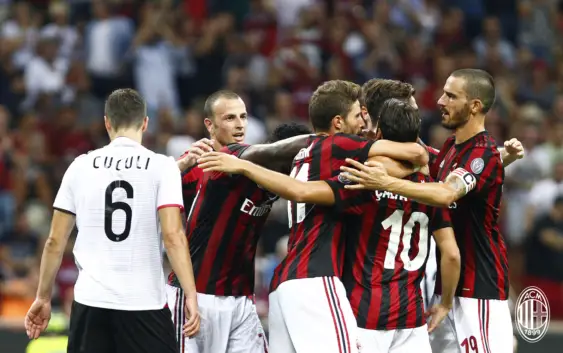 The former captain makes peace with the fans, the Portuguese has everything to leave his mark and the new arrivals are already ready: Here's why Montella can be satisfied:
A win is always a win but this Shkendija, which frankly did not feel the need of Europe, would struggle to win the Serie C championship. Any analysis can only start from this fact writes La Gazzetta dello sport. That said, manager Montella has many other reasons to smile, besides the market that can make Milan compete at the highest levels.
ANDRE SILVA – The fans dreamed Aubameyang, Belotti or Morata. But the Portuguese sponsored by Cristiano Ronaldo has everything to explode and deserves a season as a starter, perhaps in pair with Kalinic. Great technique, correct movements inside the area, shots with both feet and always senses the goal. And above all, he has the body language of the great players.
MONTOLIVO – The brace rewards a good person and a player who did not deserve to receive the San Siro protest when he first touched the ball. The fans applaud him. Now Milan can face the start of the season without Biglia with his substitute in full confidence.
THE FANS – Let's face it: 40,000 people in Milan on 17 August, in a city where even parking is available, against an opponent who attracts as much as the appointment with the dentist, testify the need for football which the red and black fans have. San Siro will return to be a factor.
NEW ARRIVALS READY – Andrea Conti and Franck Kessie return from a great championship with Atalanta. And they have made the big jump without any fear. The right back is already in the mechanisms of Montella, Kessie with his impressive physicality scares the opponents already.
BONUCCI – He has a leader-born personality. He was even while at Juve, surrounded by many international players, he is at Milan not even a month after his arrival. Natural that the motivational discourse is hold by him. When and if things go wrong, everyone will turn to the new captain.