Gazzetta, Milan-Shkendija player ratings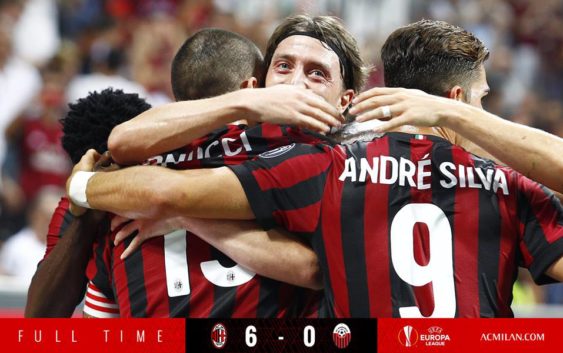 AC Milan delivered a spectacular performance yesterday with, both, good teamwork and individual highlights. La Gazzetta gives the ratings for each player.
The opponent should have been a bit more disturbing than expected, as Vincenzo Montella admitted in the post-match at San Siro. On the other hand, for Milan, everything went on the right direction, both for its own merits and for the poor play of the unfortunate Shkendija.
A 6-0 victory that exalts the red and black group, yesterday also deployed with a slight turnover because of Sunday evening's Serie A start against Crotone. Anyway the players have all come out in great spirit showing manager Vincenzo Montella that they are ready to fight in the three competitions.
As usual, here are the ratings of La Gazzetta dello Sport after AC Milan's next European success, able to exploit every chance and secure a place in the group stage. The best on the pitch is Riccardo Montolivo, one you do not expect as protagonist, back to high levels with two beautiful nets and so many precious plays in the middle of the field. A 7.5 rating for the the former captain, the same as other big players, such as Andre Silva unstoppable in front of the goal and Jesus Suso who is already inspiring with two assist and wonderful passes in front.
7 for Luca Antonelli, also a goalscorer yesterday and skillful to show that he can still be a useful and valid element. Like him, Andrea Conti, on the right, is an inexhaustible engine. And the worst? Of course, there is no real flop, but the 6 for Giacomo Bonaventura is awarded more for the unlucky groin injury than for his game, in the 30 minutes given by Montella he was injured and is out for the championship debut of Sunday.