Milan chasing PSV Eindhoven winger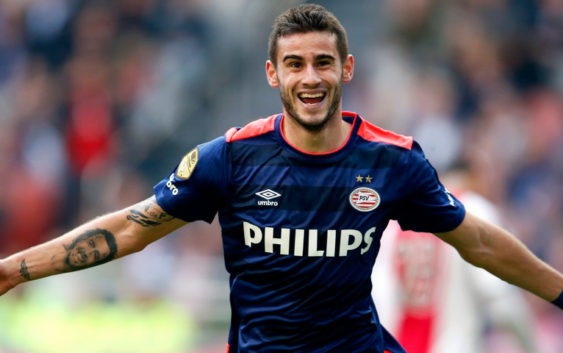 AC Milan continue the search for promising players and especially for a skillful winger. Now Mirabelli is considering the option of the 22 year old Uruguayan.
With the arrival of Massimiliano Mirabelli, AC Milan club has underwent a real revolution improving the scouting area. Observing many talents in Italy, Europe and around the world constantly in order to later sign someone from the many targets.
The new Milan has changed considerably compared to last year, when scouting for the youth sector worked well but for the first team it worked sporadically. Now the club wants to change gear, coming first on some prospects and signing them at fair prices, before the value of the card increases excessively. We will see if the structure wanted by Mirabelli will bring the hoped results in the coming years.
Calciomercato.com reveals today that among the profiles followed by rossoneri scouts is Gaston Pereiro. The 22 year old Uruguayan militates in PSV Eindhoven, he prefers to act as right winger but can also be used as attacking midfielder or left winger. Even Juventus have been following him for quite some time, and an all Italian mercato derby is not to be excluded in the future.
Pereiro joined PSV Eindhoven in 2015 from Nacional and so far has made 82 appearances scoring 26 goals and assisting 8 times. Not bad for the young Uruguayan, eagerly awaiting the new season to confirm himself before a possible major transfer to boost his career. In Holland he is doing well and his qualities are being carefully observed by the rossoneri scouts, this year can be a decisive year for him. Milan, Juventus and other European clubs are after him and Pereiro has to prove he can be a worthy investment for the future.
Mirabelli's scouts have put Pereiro's name in their database and will follow him again in the coming months. The rossoneri currently are only monitoring the situation and assessing a potential offer but no official contacts have been made so far, mainly because Milan consider the winger as a target for the next summer transfer window and not for January. The Uruguayan, on paper, would be the qualitative vice-Suso that is currently missing in the 4-3-3. Anyway, it is soon to talk about the jewel of PSV.