Milan goalkeeper named Premier League's greatest-ever goalkeeper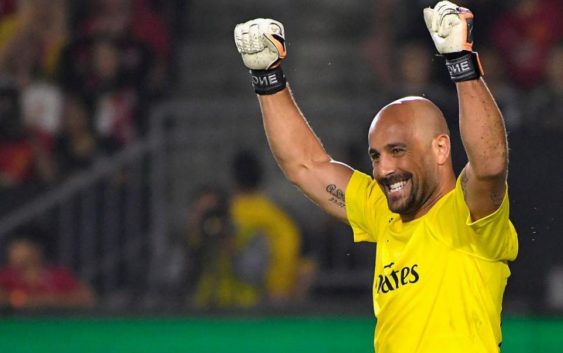 AC Milan new goalkeeper Pepe Reina has been crowned as the Premier League's best-ever shot-stopper according to research from FourFourTwo.
Eight seasons in England have allowed Pepe Reina not only to enter the hearts of Liverpool fans, the club in which he played for a long time, but also to record his name forever in the history of the Premier League. The Spanish goalkeeper, currently playing for AC Milan, has in fact been named as Premier League's best-ever goalkeeper at keeping clean sheets. The Spaniard is number one just ahead of Petr Cech, Edwin van der Sar and Peter Schmeichel.
An important recognition for Pepe Reina, who from 2005 to 2013 became an absolute protagonist with the Reds winning several trophies but never the Premier League title. A remarkable achievement for the 35 year old considering that in his eight years in Anfield Road, Liverpool's average finish was fifth.
FourFourTwo magazine calculated the clean-sheet ratio of every goalkeeper in the English top flight since 1992, their percentage showing how often they stopped the opposition from scoring in a match. Here are the top 20 goalkeepers:
1. Pepe Reina (47.02%), Appearances: 285 – Clean sheets: 134
2. Petr Cech (45.68%), Appearances: 440 – Clean sheets: 201
3. Edwin van der Sar (42.17%), Appearances: 313 – Clean sheets: 132
4. Peter Schmeichel (41.29%), Appearances: 310 – Clean sheets: 128
5. David Seaman (40.70%), Appearances: 344 – Clean sheets: 140
6. Carlo Cudicini (39.75%), Appearances: 161 – Clean sheets: 64
7. Tomasz Kuszczak (39.68%), Appearances: 63 – Clean sheets: 25
8. Manuel Almunia (39.45%), Appearances: 109 – Clean sheets: 43
9. Bobby Mimms (39.34%), Appearances: 61 – Clean sheets: 24
10. David de Gea (39.00%), Appearances: 241 – Clean sheets: 94
11. Jerzy Dudek (38.58%), Appearances: 127 – Clean sheets: 49
12. Joe Hart (38.15%), Appearances: 325 – Clean sheets: 124
13. Thibaut Courtois (38.10%), Appearances: 126 – Clean sheets: 48
14. Ed De Goey (37.40%), Appearances: 123 – Clean sheets: 46
15. Nigel Martyn (36.83%), Appearances: 372 – Clean sheets: 137
16. Jens Lehmann (36.49%), Appearances: 148 – Clean sheets: 54
17. Wojciech Szczesny (36.36%), Appearances: 132 – Clean sheets: 48
18. Mark Bosnich (35.92%), Appearances: 206 – Clean sheets: 74
19. Hugo Lloris (35.89%), Appearances: 209 – Clean sheets: 75
20. Thomas Myhre (35.48%), Appearances: 93 – Clean sheets: 33