Caldara: "Gattuso is very demanding. Here's why I'm not yet a starter"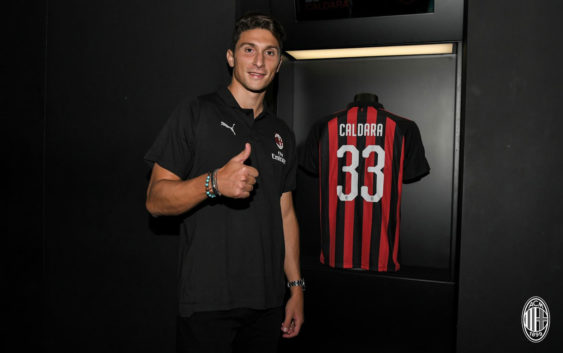 Mattia Caldara was interviewed by SportMediaset. 
These are his statements on Gennaro Gattuso, AC Milan, Italy and what's missing to reach the top.
On his return to Milanello after the national team: "Surely being in the national team is always a source of pride, playing in Europe against top international players makes you understand that there are players who are used to a different intensity to that of Italian football that is more tactical. So maybe for my football baggage it's important".
On the responsibility on the goal conceded: "When the team concedes a goal is the responsibility of the defense because you go through there to score. We have to improve a lot on the defensive level but also on the team level. To improve you need to be aware of your mistakes and then start again to not commit them anymore".
On not yet being a first minute starter at AC Milan: "I do not find anything strange. Getting used to playing in a four-man defense, with concepts that the coach wants completely different from those I did in Bergamo, is not easy. It's a month that I'm at Milanello and I have understood what the coach wants from me. In every training session I try to put something more than what he asks and I hope to be ready as soon as possible".
On the most difficult aspect in learning the new defensive schemes: "Surely playing in a back-line of four there are fewer advances, it is a department work, you work a lot on man marking and you must never break the line. I have to understand when it's time to break it and when it's needed instead to follow the line together to send the attacker offside or not".
On more space for young players: "I come from a team where many youngsters played with Gasperini. We need courage but also the awareness that young players are ready because there is a risk of burning them if left on the bench. You need to have the right mix, understand when they are ready and have the courage to launch them"
On the courage of Gattuso to launch Caldara: "I hope so, that's why I'm here".
On Gattuso: "The coach is very direct with me. He often speaks to me, tells me what he wants me to do. The relationship is very positive, dialogue helps the player a lot. I'm working hard, he's very demanding, I'll have to improve every day".
On Mancini and the differences with Gattuso: "In the national team the difference is the short time. Mancini made us understand what he wanted even if we played two games in 48 hours. From this point of view it is not easy. He made us understand that he wants a very short team and that covers the ball area. So, I think it was a positive experience for me because I learned from him too".
On Cagliari: "We must give continuity to the results if we want to stay high in the standings. We have to secure a victory away from home because they are the ones that bring you to the top at the end of the season. So, already from Cagliari we have to start thinking that we have to win because to stay on top it is essential to win away from home even if it will not be easy because Cagliari is a great team. They showed it in Bergamo where they played with a lot of personality. It's going to be a difficult challenge".
On the Champions League: "Surely our goal is to finish Serie A as high as possible. We will try in every way to achieve our goal".