Milan present the first Chinese sponsor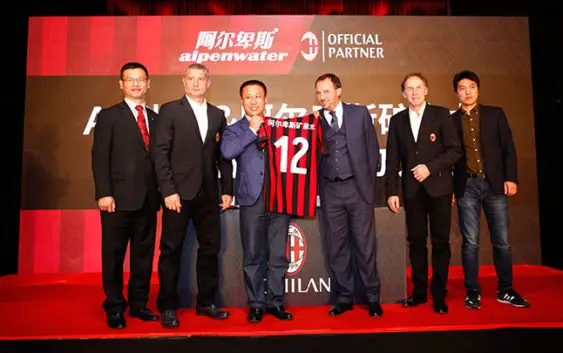 Milan China was officially presented in Beijing, where a multi-year strategic partnership with the Chinese brand Alpenwater was officially announced.
The rossoneri club in a statement on acmilan.com announced: "Alpenwater will become the official water of AC Milan and will work with AC Milan in Italy and Greater China to customised marketing campaigns and promote this partnership through various assets to reach a win-win situation. The same Brand aspirations and common target consumers greatly facilitate this cooperation. Alpenwater is a premium drinking water brand originated from Italy and targets Chinese market".
The two companies are excited about this collaboration. Both are convinced that the deal can bring significant image, business and economic benefits. This is the first Chinese sponsor with whom the red and blacks have been linked since the change of ownership in April. The club's hopes are to close other important partnerships soon (read here).
Zhao Lei, general manager of Alpenwater, said: "The rossoneri are a club with legendary history, which is very special to Chinese fans. We are very honoured to be partnered with AC Milan, especially to be the first partner of AC Milan in China under the new era of Chinese owner. We will try our best to help fans have more opportunities to get closer with their favourite team".
Lorenzo Giorgetti, the Chief Commercial Officer of the red and black club, addressed: "Today we are proud to officially announce this partnership with Alpenwater. On one side, this partnership gives AC Milan the opportunity to link his brand to one of the fastest growing company in the mineral water sector operating in China; on the other, allows Alpenwater to use AC Milan as the perfect strategic partner to enter key markets, both in Europe and worldwide".
---