Barcelona star is number one transfer target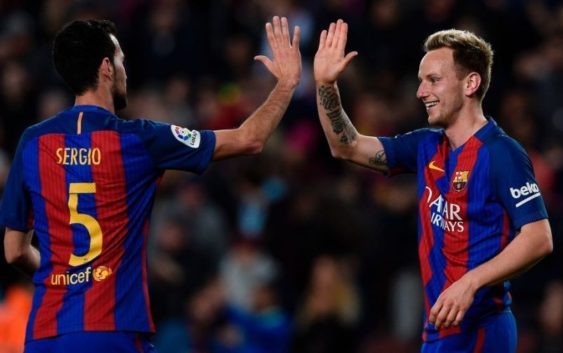 AC Milan aim to sign an experienced player in January and Barcelona central midfielder

Ivan Rakitic

is the number one target.
Barcelona star Ivan Rakitic is becoming AC Milan's number one target for January reports La Gazzetta dello Sport. The financial situation of the Rossoneri remains difficult but the club is willing to invest for a leader who can make the difference.
AC Milan desperately need a quality signing to improve the squad. Someone capable of transmitting that technical and charismatic essence to an inexperienced young team. The management and the coach agree that Milan lacks elements of experience and that needs to be fixed urgently.
Yesterday's words of CEO Ivan Gazidis were very indicative about the winter transfer window: "We are always observant on market, in January I don't like to be very active but sometimes it is necessary. The strategy is clear: invest in young players and make them grow, but that doesn't mean that we won't invest in experienced players like we did with Higuain. You can't burn money with players in decline, ours must be a responsible road".
The strategy of signing young and promising talents is well known but Milan now need something else. That is experienced players. Those that everyone, including managers, complain about not having. Players that know how to lead the group in critical moments and make a technical difference. The current average age of the team is undoubtedly a good thing for club but something else is also needed to achieve short-term objectives.
So after Luka Modric in the summer, AC Milan's dream is again a Croatian player and Zvonimir Boban could still exercise his influence to lure Rakitic at San Siro. The31-year-old central midfielder is not a regular starter this season and Barcelona are open to sell. With his contract expiring in 2021 Ivan Rakitic is on sale at an affordable price but his wage is a problem for Milan. If he agrees to lower his salary of around €7 million per season then reaching an agreement with Barcelona won't be that difficult.
READ MORE: Pioli preparing revolution for Milan-Spal