Mirabelli: "Congratulations to the team. Gattuso…"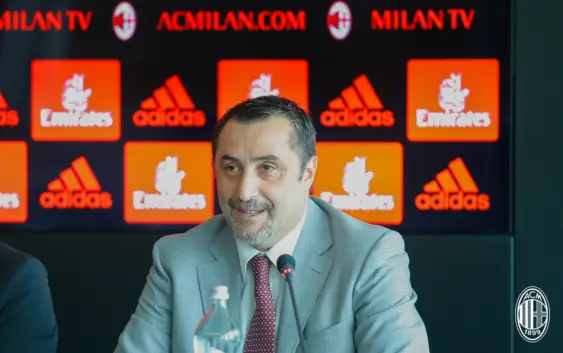 Massimiliano Mirabelli congratulates the team for achieving Europa League qualification and appreciates the supporters attitude towards the players.
The team management, present at Stadio Atleti Azzurri d'Italia, also spoke to Milan TV following the match against Atalanta. The Sporting Director Massimiliano Mirabelli expressed his satisfaction after the Rossoneri secured the qualification to the next Europa League, commented on coach Gattuso's work and invited the fans to come and support the team on next match against Fiorentina.
ON SEALING THE SIXTH PLACE
"This was a tough match from a physical and psychological standpoint. We dominated Atalanta and I would like to congratulate both coach Gattuso and the boys. We secured the qualification to the Europa League but we need to defend the 6th place. We have one last battle. Our fans have always responded greatly, they know AC Milan v Fiorentina is a very important match. We have to be all united on Sunday to seal the 6th place. The boys reacted brilliantly, it wasn't easy".
ON COACH GATTUSO
"Gattuso's work is not only appreciated at AC Milan. He is a champion and will always remain one. He is a heritage of world football. Rino had little time to intervene and yet he managed to give an identity to the team and become a leader among the boys. He is a great coach and we hope to start a cycle with him. It will be different once he starts the season as our coach".
A CALL TO THE FANS
"Donnarumma had some issues during the TIM Cup Final but he is very valuable to us and we must protect him. Kalinic has not had an easy year but today he gave a great performance. I hope people don't whistle him at the stadium. Our fans have to whistle our opponents".
---
---