Newcastle Might Snatch AC Milan Target Álvarez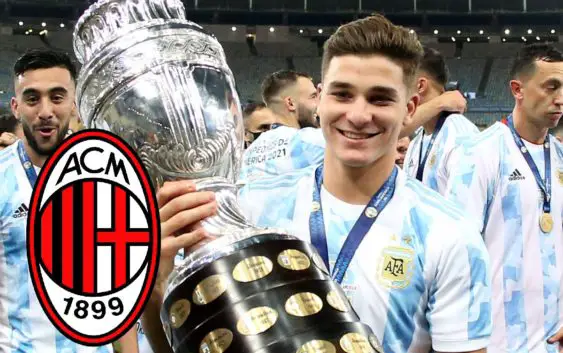 Last year's summer transfer season was a bit dull compared to the previous years as clubs had their purses drained by the many issues caused by the pandemic. Most clubs have focused on cheaper, up-and-coming players to refresh their roster ahead of the new seasons. Things seem to remain the same for this January's transfer window as well, with many young and talented players on the radar of competing clubs around the world.
River Plate star Julián Álvarez is one of the youngsters on many radars, including that of AC Milan. The Rossoneri are reportedly trying to snatch him from under the competition's noses for quite some time, going head-to-head with several high-profile teams, including Inter. But now, it seems, a new contender has emerged that may snatch the player before you could say Superbet bonus: the Premier League's Newcastle United.
"Mega offer"
According to Gazzetta Dello Sport, Newcastle is preparing a 'mega offer' for the 21-year-old Argentine forward. As you might expect, there is no word on how "mega" this offer actually is but, considering the market value of the player (20 million euros, according to Transfermarkt), it will probably be rather impressive.
But this mega offer may not be enough to lure Álvarez to Newcastle upon Tyne. It has been previously reported that Álvarez would prefer to move to a top European club, and Newcastle doesn't currently fit the definition: it is 19th in the Premier League, just one point and a few goals ahead of second-to-last Norwich City.
Then again, the club has recently received a serious infusion of capital from the  Public Investment Fund of Saudi Arabia (among the other new owners) so it is expected to spend a great deal on strengthening its roster…
Who is Julián Álvarez
Julián Álvarez has joined the Buenos Aires-based River Plate in 2013 after trials with Boca Juniors and Real Madrid. Real would've taken him but the age restrictions in effect prevented the Spanish team from signing the youngster.
Álvarez joined River Plate's senior side in 2018 as a late substitute in the team's 2018 Copa Libertadores where River beat Boca Juniors, and scored his first goal with the team a few months later, in a league game against Independiente. His performance in the Copa Libertadores was impressive, scoring five times in six matches, and impressive enough for him to win the Argentine Primera División top scorer and the South American Footballer of the Year in 2021.
Álvarez is up for a transfer this January – it remains to be seen which team he chooses to join. Aside from AC Milan, he is wanted by Inter Milan, the above-mentioned Newcastle, but Premier League club Manchester United as well.