Montolivo: What is Gattuso hiding?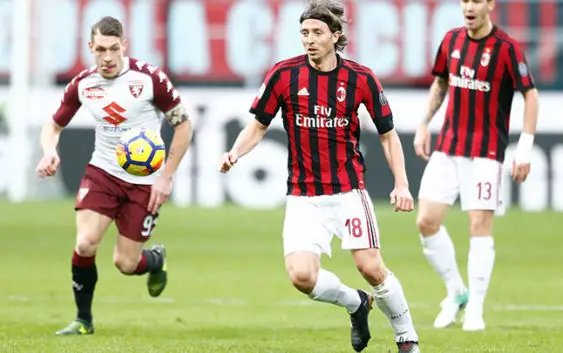 The AC Milan midfield is in a state of emergency. With Biglia, Bonaventura and Bertolacci injured, and Kessie-Bakayoko suspended, Riccardo Montolivo continues to be ignored by Gattuso. How so?
Already yesterday acmilaninfo.com reported that Montolivo almost certainly would not play even against Fiorentina. And even today no newspaper, not even for a press error, gives hope to the former Italy international midfielder to start against his former club. If this information is confirmed when the official lineups for the San Siro game are announced, around lunchtime, we could no longer consider this decision of Gattuso as a normal technical fact.
Milan has lost because of injury Biglia and Bonaventura, and since then we started to wonder why Montolivo was not even considered. In theory, the former Rossoneri captain is only clone of the Argentine in Gattuso's group. Against Bologna, Milan lost both Kessie and Bakayoko for suspension. Finally, in the last hours, even the eternal benchwarmer Bertolacci suffered an injury in training. Among the midfielders only Jose Mauri remains standing, with all due respect, he's not Pirlo or Modric. And, anyway, he is the only survivor. In addition to Montolivo, of course. So?
Then Gattuso totally ignores Montolivo and invents a brand new midfield: Davide Calabria, a fullback, Calhanoglu, a playmaker and Jose Mauri, of course. Rino can obviously play whoever he wants, of course. But if he says it's a technical decision, as he tried to make people believe yesterday, he makes fun of us. He does it with the reporters and that's fine. He does so with Montolivo, and after all the player continues to be paid regularly 2,5 million euros per year.
But he also does it with the Milan fans, who have the right to know the truth. And to know why today when they go to San Siro they will see a full-back who does the central midfielder, instead of a former national team player still active and under contract, even though never really loved by the Rossoneri supporters.
There is a strong suspicion that the issue is contractual, and that they want to avoid collateral and legal issues (that's the only reason why Montolivo participates in all the training sessions). It 's certain that the matter is not technical, because in all these games with the disintegrated midfield Riccardo should have found at least a small space to show that he is no longer able to play football (the only motive to explain this ostracism).
---
---