Chelsea offer Morata to Milan in sensational swap deal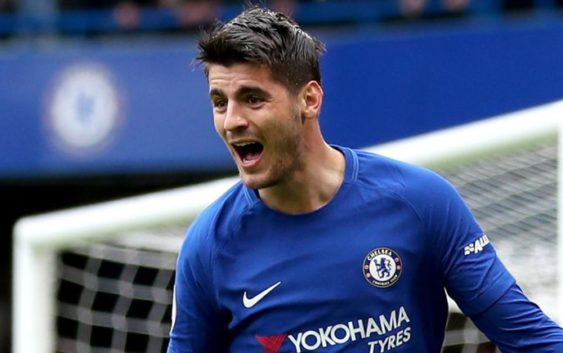 Chelsea have reignited their interested in Gonzalo Higuain and are offering AC Milan the opportunity to sign Alvaro Morata in exchange.
Sensational transfer news reported by Sky Sport today. According to the latest reports out of Italy, Chelsea are back on the trail of El Pipita. Blues coach Maurizio Sarri insists on having Higuaìn with him in London, after sharing a wonderful relationship with him at Napoli. The idea of Chelsea, with which Leonardo continues to negotiate the purchase of Cesc Fabregas, would be to insert Alvaro Morata in the alleged operation.
The former Real Madrid star has suffered in Premier League and is destined to leave Chelsea soon. After an underwhelming first season in England, Morata is struggling to perform better this year. He is often the substitute of Olivier Giroud and has scored only 5 goals in 14 Premier League appearances. Sarri demands much more.
The Chelsea coach is not happy with the displays of the Spaniard and in fact in the last league games has opted for a Dries Mertens-type solution, using a false nine in attack. That is why the discontent of Higuaìn at Milan has reignited the hopes of Sarri and Chelsea. They tried in the summer, but the English club has a precise policy on the over thirty players. In fact, Higuaìn too has explained several times that he preferred the Rossoneri to Chelsea because at Milanello everyone wanted him while in London only Sarri.
However, the management of the English club has changed its mind and is considering the new situation. Obviously it is a very complicated hypothesis also because there is always Juventus, the formal owner of Higuain. Through some intermediaries Chelsea are trying to understand if Milan would be willing to swap Higuain with Morata in January.
So far, AC Milan have paid 18 million euros to Juventus for the loan of Higuain and must disburse an additional 36 million. Chelsea on the other hand paid nearly 80 million euros for Morata (60 plus 20 million in bonuses) in the summer of 2017. Timing is the biggest obstacle of the negotiation. Higuain's sale after only five months at San Siro would be very risky for Milan because, despite Morata's knowledge of Italian football, the 26 year old would need time to adapt to a new club and a new coach. It would be much more easy to negotiate for next summer.
---
---