OFFICIAL – Donnarumma has refused to renew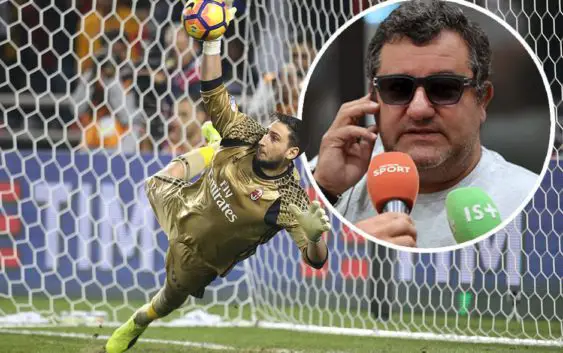 17.19 – Mino Raiola and Gigio Donnarumma have refused to sign a new contract. It was Fassone who announced the news in a live press conference in facebook.
16.31 – Gianluigi Donnarumma's entourage has arrived in Casa Milan. Together with Mino Raiola there are present Enzo Raiola and the advocate Rigo.The meeting will begin.
16.19 –  Vigorelli and Antalyasport's president left Casa Milan after a meeting that lasted more than an hour.
16.10 – Mino Raiola is expected to arrive at any moment.

15.15 – Niang is very close to joining Everton with the english club ready to offer 15 millions plus bonuses. He is also wanted by several clubs in Italy. Everton have identified Niang as top priority.
15.00 – Vigorelli (agent) and the president of Antalyaspor, Safar Ozturk, have arrived in Casa Milan. They are inquiring about Gabriel Paletta, Jose Sosa e Juraj Kucka.
14.38 – Marco Fassone has just arrived in Casa Milan. After a short lunch near the center of the city he returned in his office waiting for Mino Raiola to discuss Donnarumma's renewal.
13.15 – Mino Raiola has arrived in Milan. Gigio Donnarumma's agent is expected to meet Fassone later in the afternoon to discuss a potential contract renewal.
13.06 – Vincenzo Morabito leaves Casa Milan accompanied by a couple of Everton representatives after meeting several Milan executives. Everton are very interested about signing M'baye Niang and Gianluca Lapadula. Negotiations continue.
12.15 – Vincenzo Morabito, transfer market intermediary, who arranged yesterdays meeting with Everton representatives has returned in Casa Milan. Interviewed by milannews.it he declared: "New meeting? We are working here all day (laughs). Niang? We have to wait and see what happens. Lapadula? We have to wait even for him".
12.05 – Mino Raiola will arrive in Italy not only for Donnarumma but also to discuss other business affairs. The decisive meeting will be held in the afternoon.
11.15 – Meanwhile the club continues its normal day work with, sports director, Massimiliano Mirabelli meeting Bigon of Bologna to discuss a potential transfer for Andrea Poli and Jose Mauri.
10.43 – Mino Raiola will probably arrive in the afternoon in Casa Milan to negotiate Donnarumma's contract renewal.
10.02 – Mirabelli and Mangiarano arrived in Casa Milan to prepare the meeting
09.56 – Decisive day in Casa Milan. This time it is not a signing the club are about to announce but the confirmation of Gigio Donnarumma (on maybe not?). Another Italian newspaper, Libero, analyzes Donnarumma's contract renewal situation with the headline: "AC Milan train starts to move, with or without Gigio". The club awaits an answer from the player and is not willing to wait any more.
09.47 – La Gazzetta dello Sport: Tension is high in Milan with the club aiming to close as soon as possible the renewal chapter. Fassone and Mirabelli are confident they have presented a hefty offer and expect a positive reply from Gigio Donnarumma and Mino Raiola.