Paper Talk: AC Milan restart Kalinic contacts awaiting Belotti. Berlusconi discusses the mercato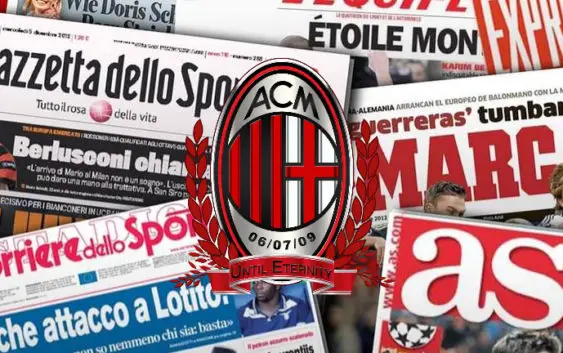 AC Milan continue to work for Kalinic while await Belotti's meeting with president Cairo. At the same time Berlusconi is happy with the rossoneri transfer market so far.
LA GAZZETTA DELLO SPORT
"Out Morata, in Kalinic, then Belotti?" This is the opening title of today's edition of La Gazzetta dello Sport on Milan's transfer market. The Spaniard goes to Chelsea while on Monday is expected to be the Croatian's day. Manager Montella insists for Belotti.
According to La Gazzetta, contacts between Milan and Fali Ramadani, the intermediary of the Kalinic deal, are continuing. Once Fassone and Mirabelli return from China, the operation could in fact be closed in short time time. At that point Milan would have more than a month to sell Bacca and add another striker, such as Belotti.
"I've heard about the rumors on Suso and Locatelli. I would like to clarify that for us, both, are unsaleable. And with Suso we will soon renew his current contract". With these words, Massimiliano Mirabelli, removed from the market both Suso and Manuel Locatelli. AC Milan's sports director also announced that soon the Spanish winger will renew his contract. Suso, a few days ago, made it clear that his will is to stay at Milan.
Bayern Munich's demands for Renato Sanches are considered to be too high. The Germans want 48 millions for such a transfer and AC Milan have no intention to accommodate such requests.
CORRIERE DELLA SERA
Today, Urbano Cairo, president of Torino, will be in Bormio and will meet Andrea Belotti to understand what his intentions are. Corriere della Sera reports today that AC Milan are always on Belotti and therefore waiting for updates.
Nikola Kalinic remains a target for AC Milan and in the past weeks the rossoneri have presented a 22 million euros offer for the Croatian striker of Fiorentina. According to Corriere della Sera, the Viola now demand 25 million plus bonuses.
TUTTOSPORT
"Gallo for who do you sing?" Is the question that opens the first page of today's Tuttosport. "Belotti will meet Cairo, expected in Bormio for the second friendly match of Torino: Milan awaits"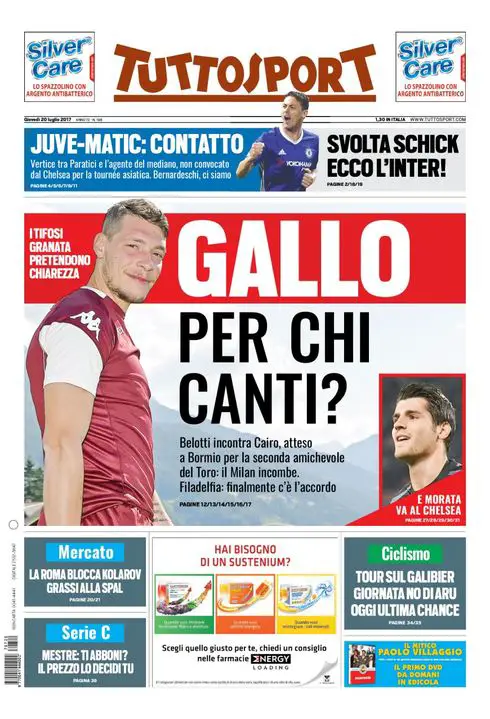 REPUBBLICA
Andrea Belotti's will is clear and today it will also be announced to Urbano Cairo, president of Torino, who will talk with the young attacker. Il Gallo wants AC Milan but he does intend to clash with the club for this transfer. 
IL GIORNALE
Silvio Berlusconi continues to follow his AC Milan and is very pleased with the promises kept by the new Chinese owners who are making big investments in the mercato to reinforce the rossoneri. To report this news is Il Giornale, which also recounts the following sentence of the former Milan president: "I assured myself that there would be a generous investment, even greater in comparison to our competitors".