From Pirlo to Suso: Tactical innovation during the summer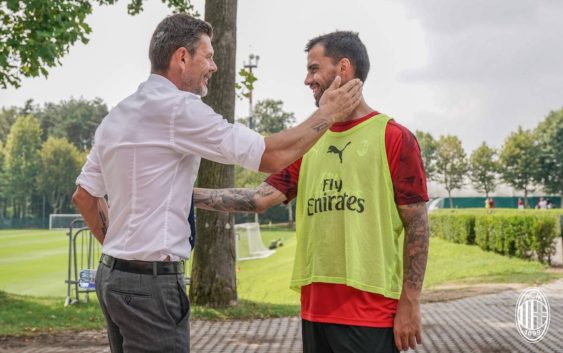 From Andrea Pirlo to Jesus Suso: Milanello becomes a testing ground under the catalyst of the mid-August sun.
MILAN NEWS – In recent friendly matches against Benfica, Manchester United and Feronikeli ,AC Milan star Suso caught the eye with his performances as an attacking midfielder in the hole. This is the first time that the Spaniard has played in this position since landing at Malpensa to commence his Rossoneri adventure in January of 2015. As recent history shows, the summer months represent the perfect opportunity to carry out tactical and positional experiments in order to open up new options ahead of the season.
The idea to deploy Andrea Pirlo as a deep-lying playmaker was born during a summer conversation between the Brescian midfielder and Carlo Ancelotti in 2002. The concept was put to the test during the Luigi Berlusconi Trophy match between AC Milan and Juventus on 18 August 2002 – a game that would turn out to mark the beginning of a new era. In the summer, there is more time to reflect, tinker and, ultimately, to innovate. History repeated itself exactly one year later, when Manuel Rui Costa was asked to play as an attacking right winger during the European Super Cup final between AC Milan and Porto in Monte Carlo. It was the Portuguese man who provided the all-important cross to Shevchenko in the tenth minute for the game's only goal.
Ancelotti often used the summer as an opportunity to experiment with his full backs, using players who were not familiar with the position: in the summer of 2002, Šimić only had experience in the centre of defence and Kaladze was a central midfielder. In addition, Serginho was converted from an attacking winger during the summer of 2005. Summer is also the period in which coaches can identify and rectify issues on the training pitch.
During the hottest months of 2009, Leonardo began with Zambrotta and Jankulovski as his full-backs but in the middle of the season, swapped to Abate and Antonini. In the summer of 2010, Allegri coached Abate as an attacking winger and Boateng as a central midfielder. Just a few months later, Abate became the starting right full-back for AC Milan and Boateng moved further forward to link up with Robinho and Ibrahimović in a free-flowing AC Milan attack.
Two new ideas came to Montella in the heat of the 2016 Milan summer. Suso and Niang appeared to be on the margins of the squad, one due to a period on loan and the other due to a long-term injury. Montella had other ideas, transforming them both into key members of the 2016/17 AC Milan squad. Suso is no stranger to summer experiments, as illustrated by his good performances in recent friendly matches.
AC Milan finally free to sign Angel Correa