Raiola working with Inter and Juve to blackmail AC Milan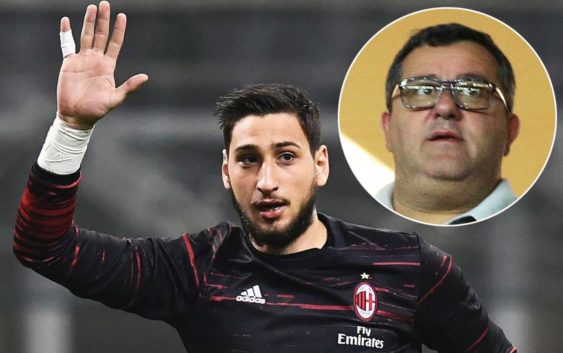 AC Milan are facing a tough time completing the renewal of Gianluigi Donnarumma with Mino Raiola using despicable tactics to get a better deal.
AC Milan are leading Serie A after so many years battling in mid positions. While the squad has done very well on the pitch, the Rossoneri management is facing difficulties in the negotiation table. AC Milan risk losing Hakan Calhanoglu and Gianluigi Donnarumma at the end of the season on free transfers. Both players are in discussions to renew their expiring contract but no progress has been made for either despite the genuine optimism.
The Turkish midfielder is now asking a contract of 5 million per season while the club is not going beyond 3.5 million plus bonuses. His agent Gordon Stipic offered Hakan's services to Inter in the past in order to force the Rossoneri to offer his client a better deal. The situation with Donnarumma is even worse.
The Italian goalkeeper is currently the highest earning player in the squad and Milan are offering him an improved deal. Maldini and Gazidis were optimistic that he would accept the proposal before the end of the year but his agent has different ideas. Milan are offering Gigio a new contract of 7 million per years plus bonuses and one million to his brother Antonio. Even in these difficult times for many clubs the Rossoneri are willing to make a sacrifice for their star keeper but Mino Raiola has refused and is even blackmailing the club.
The infamous agent insists that an agreement is far. Not happy with Milan offer, Raiola has talked with Inter and Juventus on the possibility of signing Donnarumma. The Dutch agent has told the Rossoneri to offer Gigio a better contract because Inter and Juventus are offering better economic terms for the 21-year-old.
The name of Donnarumma was mentioned to Inter during renewal talks for De Vrij. While Juventus could profit a lot form the sale of Szczesny and signing Gigio as free agent would be a great signing for every club. The player must come out of his agent's shadow, show how much he loves Milan and avoid another summer telenovela like the one in 2017.
---
READ MORE: Juventus want to sign AC Milan striker