Raiola trying to snatch new AC Milan star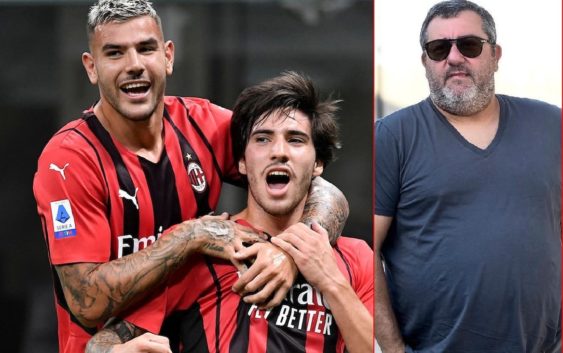 Mino Raiola is trying to snatch AC Milan full-back Theo Hernandez from his current agent. The French star is set to renew his contract until 2026.
After announcing the renewal of Alexis Saelemaekers, AC Milan are trying to tie down Theo Hernandez on a new long-term contract. The Rossoneri and the French defender are negotiating the extension of the current contract until 2026 with increased salary. Theo currently earns 1.5 million and is set to earn 5 million plus bonuses. Unlike in the past, AC Milan moved much more in advance to renew the contract of Hernandez.

It's obvious that AC Milan are pleased to keep Theo and Hernandez loves the club but behind the sudden acceleration there is another motive. Journalist Alessandro Jacobone reports that Mino Raiola has attempted to add Theo Hernandez to his list of clients. That's why his current agent, Manuel Garcia Quilon, did everything to close a quick deal.
Sportmediaset confirms that Mino Raiola has set his sights on Theo Hernandez and is still trying to snatch him from Quillon. Consequently, the current agent had every advantage in agreeing a new contract with Milan as soon as possible. Renewal which, of course, Theo would be happy to sign.
Needless to say, Quilon's opening greatly facilitates the work of Maldini and Massara, who would not only lock down the player but would avoid, at least for the moment, having to reckon with Raiola, someone who is not welcomed at Casa Milan for known reasons. The new agreement is at the final stage and expected to be signed in a short time.
Theo Hernandez is not the only player on AC Milan's renewal list. Ismael Bennacer is believed to sign a new deal soon with doubled wages. Next is line in Rafael Leao who is doing great things this season. After two difficult years, the Portuguese is finally starting to showcase hi immense talent.
---
READ MORE: AC Milan star tops Newcastle's shopping list