Rangnick has asked AC Milan to sign RB Leipzig winger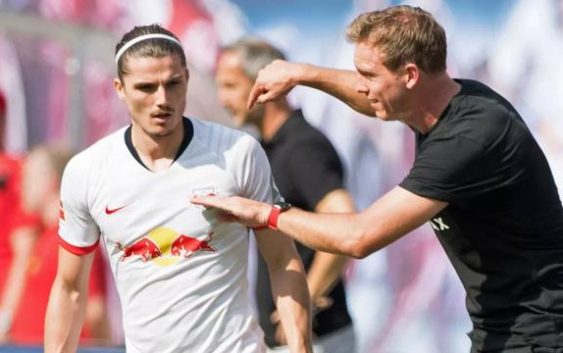 Ralf Rangnick has explicitly asked AC Milan to sign flamboyant right winger Marcel Sabitzer from Red Bull Leipzig.
Numerous reports in the Italian and German media confirm that at the end of the season Ralf Rangnick will join AC Milan. The only doubt is if he will take only the sporting director job or also the coaching position. Regardless, the German will be in charge of the summer transfer campaign of the Rossoneri.
Many expect Ragnick to implement the same philosophy that helped him achieve huge success at Hoffenheim and Red Bull Leipzig. Another interesting dilemma is whether Rangnick will bring any players from RB Leipzig at AC Milan.
Gaetano Di Caro, German football agent and international intermediary, in an interview with MilanNews.it, revealed that Rangnick wants Marcel Sabitzer to join him at AC Milan. Sabitzer has made 36 appearances with RB Leipzig this season scoring 15 goals and providing 8 assists.
"Szoboszlai is a good player, he could make his way at Milan, but I don't know… Here in Germany there is rumors that Ragnick is already in full harmony with Elliott and Gazidis for one player who still hasn't been named in the media like Marcel Sabitzer, an Austria international of Leipzig who is doing very well. He is a very strong player, as far as I know it is an explicit request from Rangnick that Milan sign Sabitzer".
When asked if there are other Red Bull Leipzig players that Rangnick wants to sign, Di Caro revealed: "I don't know if it is a founded rumor or not, given that Theo Hernandez has joined Milan lately, but there is also talk about Halstenberg, left back of Leipzig and the German national team. In these days there has been rumors that Rangnick has requested these two names to bring to Milan".
As acmilaninfo.com reported in March, Marcel Sabitzer is the ideal player of Ralf Rangnick and of his Red Bull Leipzig model. The right winger is a flexible and dynamic player, able to play in multiple roles. A footballer with great personality but that favors the team spirit. Not an established champion, but rather a relatively young player ready for a huge leap forward in quality without being "prima donna" like Ibrahimovic.
READ MORE: Barcelona make bid for Romagnoli