Stats highlight the sharp decline of Kessie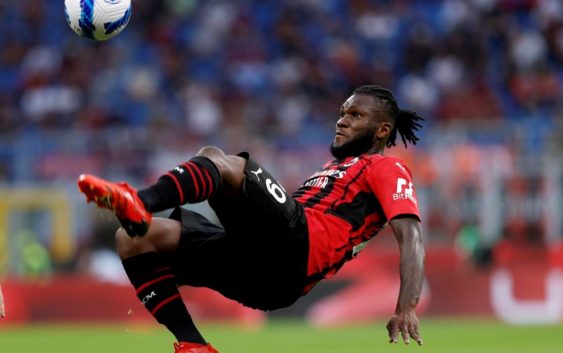 More than three months after the start of the season, the balance is clear. Franck Kessie looks like a distant relative of the dominant, workaholic midfielder admired last year.
The 24-year-old central midfielder was one of AC Milan's leaders last season. Superlative performances, enviable physical-athletic form and above all dizzying numbers for the Ivorian star. This year it is a completely different story. Kessie, perhaps suffering from doubts about his contractual future, is not convincing on the pitch. "The tank' is down, both in appearances and in numbers.
Today's edition of La Gazzetta dello Sport analyzes the performance of Kessie and compares his stats with the last season. A year ago, after 18 seasonal matches, the Ivorian had much better numbers and data.
Just think of goals and assists: 4 goals scored in 2020 against the 3 recent ones. Last year Kessie had produced two assists, while in the current season only one, that in Madrid for Messias' goal.
Declining averages even in other areas. For example, that of the balls played (only 58.5 per game against 69.1 in the last championship), or that relating to the balls recovered. A fundamental stat in which Kessie excelled in 2020, with 7.3 recoveries per match, while today the AC Milan midfielder boast an average of 5.7.
Similar situation for the duels won. Last year Kessie dominated with an average of 5.2 while today he is at 4.5. Finally, Gazzetta's average player rating. At the end of the year the Ivorian was among the brightest in Serie A with 6.52. Today he is under the average with 5.95. Numbers clearly demonstrate that Franck Kessie is just a shadow of his former self.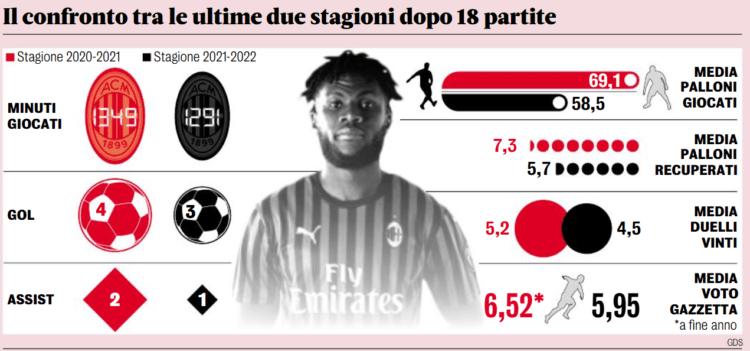 ---
READ MORE: The reasons why AC Milan suffer so many injuries