The Six Best Players Who Transferred Directly Between AC Milan & Inter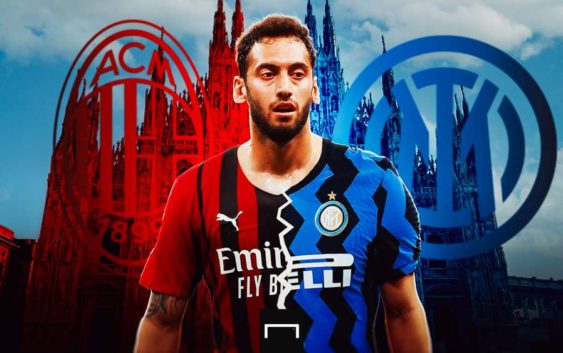 Despite the fierce rivalry between AC Milan and Inter, it is not unusual for players to feature for both clubs, with many switching directly between the two. The most recent example is Hakan Calhanoglu who rejected AC Milan's renewal offer and joined Inter on a free transfer as reported by acmilaninfo.com. News of these deals often come as a shock to football fans in the UK and elsewhere, where the concept of selling a top player to your arch-rival is seen as taboo.
| #WELCOMEHAKAN@hakanc10 ⚫ pic.twitter.com/2Dpxnnfy70

— Inter (@Inter) June 22, 2021
The reluctance of Premier League clubs to do business with their foes was highlighted in 2007 when Argentine full-back Gabriel Heinze demanded a move from Manchester United to Liverpool after the latter offered a fee that matched a minimum sale clause in his contract. The Red Devils insisted there was no obligation to sell, so the player's representative tried to engineer a deal where he would be sold to Crystal Palace then switch to Liverpool. Unfortunately, a Premier League panel blocked the deal and Heinze was eventually sold to Real Madrid.
Knock-on Effects
Any transfers between the two Milan clubs this summer could affect the betting markets as successful gamblers look to arm themselves with as much knowledge as they can. Statistics and transfer information are crucial factors to take into account when making informed wagering decisions. Inter are the reigning Serie A champions, while Milan are hoping to close the gap. But despite winning the title, Inter will start the season as second-favourites behind Juventus according to the top Serie A betting sites at asiabet.org. Considering how popular this league is, many sites like this offer explanations on how the league works. For some fans, this is a way to get further involved with the betting community as they speculate who will win. Additional resources are explaining how odds and bonuses work. Milan were in the running for the title last season before a drop off in form in the New Year saw them cut adrift from their rivals.
While transfers between AC Milan and Inter can sometimes cause controversy, they are rarely blocked from happening. In fact, 27 players have featured for both clubs since 1995, 18 of who moved directly from one Milan club to the other. So who are the most famous players to have made the switch from red and black to black and blue, or vice versa?
Clarence Seedorf
Clarence Seedorf remains the only footballer to have won the Champions League with three different clubs, triumphing with Ajax in 1994/95, Real Madrid in 1997/98 and AC Milan in 2003/04 and 2006/07. The Dutchman enjoyed a trophy-laden career, but his spell at Inter from 1999 to 2002 did not yield any silverware. Luckily, he switched colours in 2002 and went on to win 10 major honours with the Rossoneri.
A decade in Rossonero full of memories, goals and trophies: #HBD Clarence Seedorf!

10 anni di gol e trofei in rossonero: tanti auguri per i tuoi 45 anni, Clarence Seedorf! #SempreMilan | @BancoBPMSpa pic.twitter.com/jIWRRINsWW

— AC Milan (@acmilan) April 1, 2021
Andrea Pirlo
Much like Seedorf, Andrea Pirlo failed to win a trophy during his spell at Inter but soon rectified that after his transfer to AC Milan in 2001. During his 10-year stay, he picked up 10 trophies including two Serie A titles and two Champions Leagues. He enjoyed further success at Juventus and was also a key player in Italy's 2006 World Cup win.
Christian Vieri
The centre forward commonly known as 'Bobo' won trophies with four different Italian teams including a Coppa Italia with Inter in 2004/05. When you look at his role in the national team, he is Italy's joint-highest ever goal-scorer at the FIFA World Cup, not forgetting with Roberto Baggio and Paolo Rossi, with nine goals from nine matches. Unfortunately, his spell at AC Milan was regarded as a failure as he only managed to score two goals in 14 appearances in all competitions.
Cristian Brocchi
Vieri's close friend, Cristian Brocchi, made the journey from AC Milan to Inter and back again, playing as a defensive midfielder. It was during his second spell in the red and black that he enjoyed the most success, picking up a total of seven honours including a Serie A title and two Champions Leagues before switching to Lazio.
Sulley Muntari
After winning the FA Cup in England with Portsmouth, Sulley Muntari joined Jose Mourinho's Inter and was a key member of the 2009/10 treble-winning side. After four years at the club and a brief loan spell at Sunderland, he moved to AC Milan where he spent four seasons (the first on loan). Unfortunately, he was unable to replicate his previous success as the Rossoneri struggled to compete for honours.
Giuseppe Favalli
Giuseppe Favalli remains a Lazio legend, having picked up seven major honours in his 12-year spell in Rome. He finally left the club in 2004, aged 32, signing for Inter on a free transfer. He picked up another four trophies during two years at the club including his second Serie A title. A switch to AC Milan in 2006 yielded three more winners medals including a Champions League and a FIFA Club World Cup, although the veteran was mostly used as a substitute during his time there.
As you can see, Hakan Calhanoglu has joined an illustrious list of players to have changed colours at the Stadio Giuseppe Meazza. His move did not come as a big surprise as the club had been linked with him before and were offering higher wages than AC Milan. They also needed to act in the wake of Christian Eriksen's recent health scare, with the midfielder's playing career now in doubt. However, it remains to be seen what impact the Turkish player's switch will have on both sides' title aspirations.
---
READ MORE: AC Milan choose new captain