AC Milan working on double sale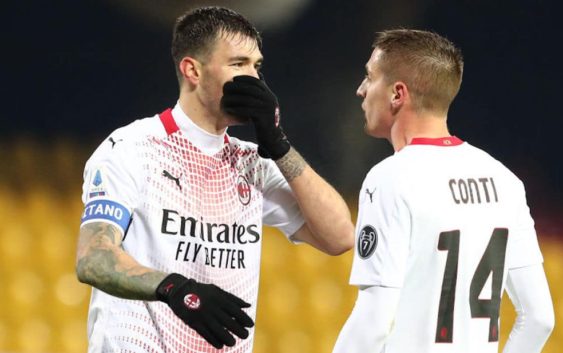 Besides the numerous signings, Paolo Maldini and Massara are trying sell two AC Milan players that have no room in Pioli's squad.
Regarding new arrivals, the Rossoneri are pushing to close the purchase of Romain Faivre. Meanwhile, in the last hours of the summer transfer window AC Milan are working to complete a couple of sales.
So far, Milan have been able to offload their redundancies, managing to get rid of players totally out of Stefano Pioli's project like Diego Laxalt, or to monetize, like in Hauge's case. Now the management needs to find new clubs for two remaining players.

Andrea Conti was not called up for yesterday's match against Cagliari. The Italian full-back, former Atalanta, is no longer part of Pioli's plans and the arrival of Alessandro Florenzi seems to have permanently sealed his chances of ever playing for the Red and Blacks.
Several Serie A clubs have shown interest in Conti. Atalanta, Cagliari, Sampdoria and Genoa want the Italian right back. A few hours until the market closes, it is difficult to understand what Conti's future will be but surely not at San Siro. His contract expires in one year so the Rossoneri are looking to sell him rejecting every loan offer so far. The contract termination is an option Milan are trying to avoid.
The second player AC Milan are trying to sell is Samuel Castillejo. The arrival of Alessandro Florenzi, who can also play as right winger, has closed his space too. AC Milan have already refused a loan offer from Getafe because they want to bank on the former Villarreal. Getafe remain interested, Real Sociedad too while Sampdoria have recently joined the race.
The Spaniard's contract expires on 30 June 2023 and AC Milan are asking a fee of 8 million euros. The steps taken yesterday, both on the pitch and on social media, suggest an imminent farewell from Castillejo. He entered the match at 91-st minute, making a cameo, and the Instagram message, "Always one of you", suggest an imminent farewell.
---
READ MORE: OFFICIAL: AC Milan sign highly-rated winger