Udinese-Milan: A thorough analysis of the defeat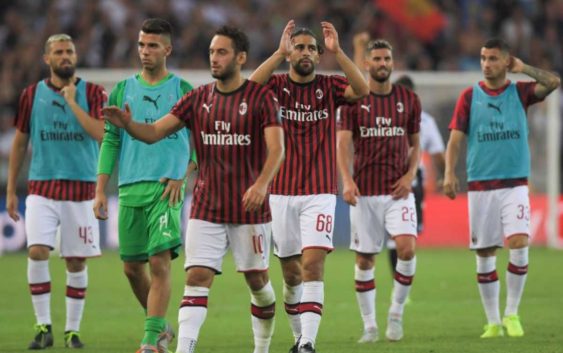 After the disastrous Serie A debut against Udinese,

La Gazzetta dello Sport

analyses

what's wrong with Marco Giampaolo's

AC Milan.
Udinese-Milan 1-0. For La Gazzetta dello Sport the situation is already on red alert. A disastrous start, with only one possible cure by the company: To make the most of this final market rush and inevitably reinforce the squad with new signings.
Gazzetta underlines that even the excuse of the "open construction site" and of the works in progress holds up to a certain point. The truth is that yesterday we saw a very ugly Milan. And there is no Giampaolo precept that the team has received besides the usual compact defence.
Udinese-Milan 1-0, analysis

We saw rather a low intensity team, holding possession but unable to capitalize. Zero shots on goal. Zero, an embarrassing number. Marco Giampaolo centralized the game of AC Milan and consequently desertified the wings. The two wingers of Gennaro Gattuso's Milan have now been moved to the center, vertically one behind the other: Hakan Calhanoglu as regista with Suso in the role of trequartista.
That's not all. Fabio Borini, basically a striker, played as inside right in midfield. Lucas Paqueta, who is considered a number ten in Brazil, continues his conversion as inside left. Samuel Castillejo, another fast winger, is forced to act as a second striker next to Krzysztof Piatek.
What is happening to Piatek?
And speaking of the Polish centre forward, he now seems extinguished. This summer he has failed to score a single goal and it is not and cannot be a technical problem. It is a question of ignition, of a squad that no longer finds its bomber and he does not know what to do to be in the right place at the right time.

Given the characteristics of the players, perhaps – emphasizes Gazzetta – it would be better to resurrect the Gattuso's 4-3-3 formation. Under Gattuso, El Pistolero was a totally different player. The decision to leave all the new signings out also leaves many doubts.
In the second half, Udinese coach Tudor realized that there was a chance to win the match and decided to put in two attacking players, De Paul and Nestorovski. Why no new signings weren't used by Giampaolo, neither of them didn't deserve to start from the first minute? At this point, discussing about Samir's alleged penalty is just a waste of time.
OFFICIAL – AC Milan announce striker signing