WATCH: AC Milan denied clear penalty against Inter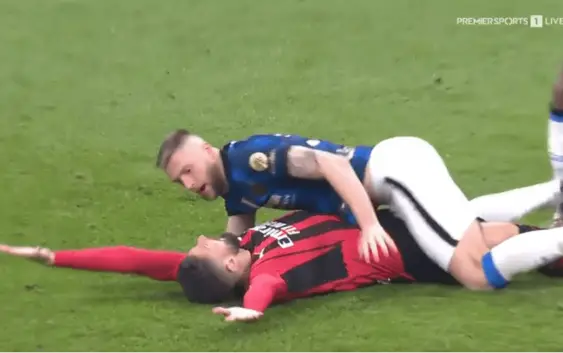 AC Milan fail to win the Cup derby against Inter but the Rossoneri are not awarded a penalty when Skriniar puts down Giroud.
AC Milan dominate the derby but are unable to win. Despite their numerous chances, the Rossoneri are not concrete in front of the goal with Alexis Saelemaekers and Theo Hernandez, in particular, failing to find the back of the net. The Coppa Italia finalist will be determined on the second leg, to be held in April.
Nevertheless, like in recent matches, there is an episode on AC Milan's favor that could have changed the fate of the match. In the second half, Inter defender Milan Skriniar puts down Olivier Giroud. It seems to be an obvious penalty but neither the referee or VAR react.
For Corriere dello Sport there is no doubt. Referee Maurizio Mariani made a mistake not awarding AC Milan a penalty. CorSport also judges as insufficient the performance of Mariani in the Coppa Italia derby.
"The lack of a penalty in favor of AC Milan for the contact in the area between Skriniar and Giroud weighs heavily. The Slovakian's push is firm, probably too much, so much so that the center-forward ends up on the ground. The VAR referee, Massimiliano Irrati, is also guilty, once again silent. He had already made a mistake in Bergamo on Monday, yesterday he fell back: confusion by too many indications?", writes the Italian newspaper.
Even former referee Graziano Cesari has no doubts. The episode was a clear penalty. "Skriniar forgets about the ball. With his left arm he immobilizes Olivier Giroud and then lands on him. This is an intervention that had to be sanctioned."
Another dubious episode is the yellow card of Lautaro Martinez who intervened harshly on Mike Maignan. The Argentine striker landed with his foot on the goalkeeper's wrist. A "bright orange" would have been appropriate according to Corriere dello Sport. Both Mariani and Irrati did not do a good job deserving a 5 rating.
Former referee Graziano Cesari to Mediaset:

"Skriniar forgets about the ball. With his left arm he immobilizes Giroud and then lands on him. This is an intervention that had to be sanctioned."pic.twitter.com/7p0j5iZhkC

— Milan Eye (@MilanEye) March 1, 2022
---
READ MORE: BBC confirm AC Milan's first summer signing