5 Things we learned after Milan vs Sampdoria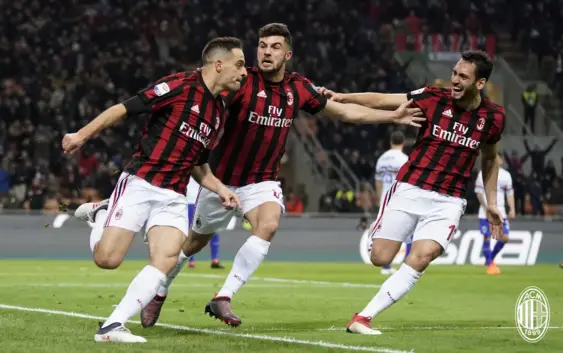 An overall review after three intense weeks filled with games and excellent performances by the Rossoneri in the league.
1- THE BUILD-UP PLAY TO THE GOAL
AC Milan's quality football from the last period was all reflected on the build-up play to the goal: the excellent passing and fine technical gestures (Calhanoglu's accurate long pass and Suso's fine control), the overlap on the wing (by Calabria), the linear pass down the right flank (Suso to Calabria), the cross in the area (Calabria again), and Bonaventura's box-to-box abilities. Such complex play confirms that everyone is in good condition, the individuals are inspired and the team is well organised.
2- THE BOOST FROM THE SUBS
Quality is also coming from the bench. Montolivo's great performance and André Silva's superb contribution in the second half confirm this. If the coach always stimulates everyone and if the team performs well, those who play less compared to the usual starting eleven – even when they need a moment to find themselves on the pitch – enter the pitch highly motivated and ready to make their mark.
3- WHO TAKES THE CREDIT?
Rino Gattuso gives all the credit to the players and the boys give the credit to the coach. When things go well on the pitch, it's a virtuous circle, but also a sign of a symbiosis, of complementation. AC Milan have not achieved anything yet, but whatever happens from now until the end of the season, they will play as a real team. Whether it will be a consolation or a result, we will see, but in the meantime, there is an undeniable improvement and the credit, at this moment, should go to everyone.
4- WE ARE READY TOO
Almost 47 thousand Rossoneri fans were last night at San Siro. 40 thousand had already confirmed their presence before the call from the coach on the eve of the match from Milanello. The crowd was very active at the stadium, cheered and applauded many plays, not only the goal opportunities. Besides, the fans applauded all the players during the substitutions, both those coming on and the ones leaving the pitch.
5- THE TIGHT SCHEDULE CONTINUES
28 January 2018, on this date the intense schedule began for the Rossoneri, when they started playing every three days in three different competitions. The win over Sampdoria shows that AC Milan overcame with success the double clash with Lazio and the three back-to-back away games. However, the schedule gets even tougher: after Ludogorets, there are AS Roma, SS Lazio and Inter. At this point, no distractions are allowed.
---
---