Piatek's former attacking partner could join him at Milan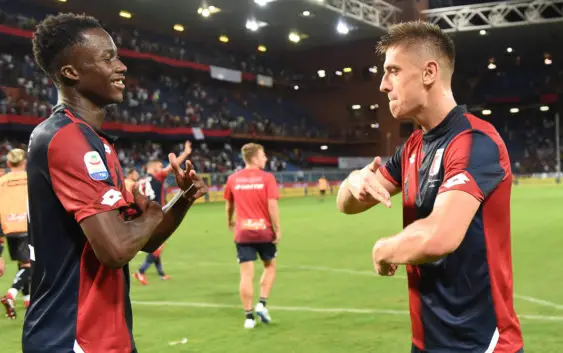 Christian Kouame, former Piatek attacking partner at Genoa, could join him at AC Milan with the Rossoneri in search of alternatives to Corrrea.
MILAN TRANSFER NEWS – Genoa striker Christian Kouame is among the alternatives to Angel Correa reports La Repubblica. Kouame was Krzysztof Piatek's partner in attack during the Pole's few months at Genoa.
The signing of Angel Correa has transformed into a race against the clock. Atletico Madrid refuse to lower their asking price forcing Milan to look for other names. However, Kouame is not the only player on Maldini's list.
The Rossoneri contacted recently contacted Gremio to discuss Leonardo's old transfer target Everton Soares. The Brazilian winger is on the market for €40 million but four subjects own a part of the player's card. The remaining four days are not enough for Milan to reach an agreement with all those parties.
Tuttosport reports that AC Milan's number one target is Memphis Depay. The Dutch international is looking to leave Lyon and the French club are willing to sell him for a fee of €40 million. The two clubs are in negotiations and at moment, the former Manchester United winger, is the most likely name to join AC Milan.
According to La Repubblica, Christian Kouame is the back up option. If Milan fail to sign Depay they will concentrate all their efforts in trying to bring the 21-year-old striker at San Siro.
Genoa signed Kouame for €5 million from Cittadella last summer and currently value him four times more. The Ivorian forward scored 4 goals and assisted 7 last season in 39 appearances. Many of his assists were for Piatek. Kouame is off to a flying start to the season having scoring one goal in the spectacular draw against Roma. An affordable and reliable player to partner with Piatek for the second time.
READ MORE: AC Milan vs Brescia, probable lineups