AC Milan fear Jorge Mendes sabotage on two key deals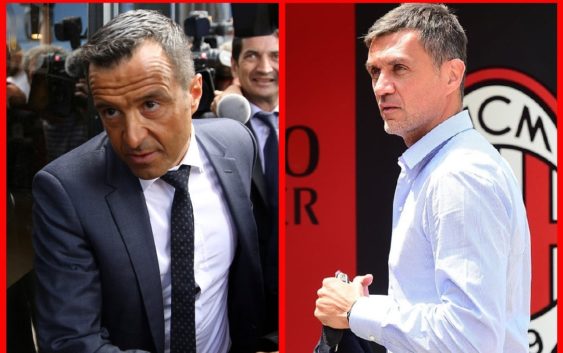 AC Milan are in negotiations to sign Renato Sanches from Lille and extend the contract of Rafael Leao. Both are Jorge Mendes clients.
AC Milan are currently working simultaneously on two fronts. The management is moving to improve Stefano Pioli's squad and at the same time extend the contracts of several important players. AC Milan have crossed roads this summer with powerful agent Jorge Mendes on both aspects.
The Rossoneri have been in talks to sign Mendes' client Renato Sanches from Lille since last January. At the same time Maldini and Massara have met regularly with the Portuguese agent to negotiate the contract extension of Rafael Leao. The current agreement of the 23-year-old left winger expires in two years.
RENATO SANCHES Situation
The situation linked to the future of Renato Sanches is becoming a real intrigue reports Corriere dello Sport. The 24-year-old central midfielder had a verbal agreement with AC Milan on personal terms but things got complicated after PSG's interest. The Portuguese player seems tempted by Paris but the game is not over.
PSG have yet to make an official bid for the player while AC Milan have closed their part with Lille. The Rossoneri fear that PSG are only being mentioned by Mendes to put create on AC Milan and get a better contract. Sanches had said yes to AC Milan's initial proposal of 3.5 million per season but now he's asking for 5 million.
The renewal of RAFAEL LEAO
At the same time AC Milan are in talks to extend Rafael Leao's contract. The Portuguese left winger played a key part in AC Milan's Serie A triumph last season and is demanding a handsome reward. Maldini and Massara would like to tie down the player to a new contract but their first offer of 4.5 million proposed at the beginning of 2022 was returned to the sender.
Jorge Mendes has requested €7 million per season, including bonuses. That would make Rafael Leao the highest paid AC Milan player by a long distance. That's the same figure Zlatan Ibrahimovic used to earn until last season. Time is not on AC Milan's side and the management fears that Jorge Mendes is trying to drag talks in order to move Leao easily next summer.
---
READ MORE: AC Milan's worst signings EVER