AC Milan held transfers talks for two Salzburg gems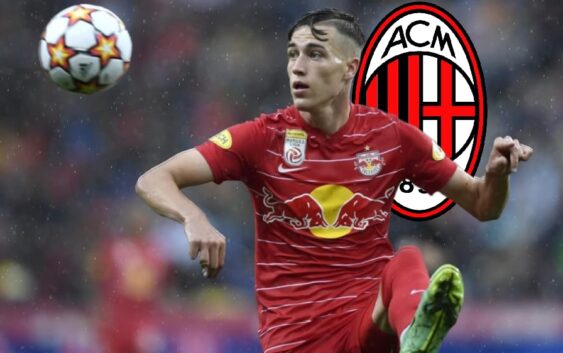 Maldini took advantage of the Champions League match to discuss the availability of two Red Bull Salzburg players.
AC Milan hosted Red Bull Salzburg at San Siro during the week. The Rossoneri dominated the match securing an important 4-0 victory and progressing to the knockout round of the Champions League. At the same time, Paolo Maldini and Frederic Massara took advantage of the match to talk transfer business.
Red Bull Salzburg are home to some of Europe's most exciting talents. Haaland, Mane, Keita, Adeyemi and Sesko have played for the Austrians before making the jump to bigger stages. Now, a new generation of names like Okafor, Sucic, Adamu and Siewald are following in their footsteps.
Tuttosport reports that Maldini and Massara held a meeting with the Salzburg management to talk about Noah Okafor and Luka Sucic. The Rossoneri are looking to add a new striker to their ranks soon and Okafor has caught the eye of Maldini. The 22-year-old Swiss striker has excelled in Champions scoring 10 goal in all competitions so far.
When asked about a potential transfer to AC Milan, Okafor did not hide his appreciation for the Italian champions. "Milan are a very strong team. We are talking about a great club, with a legendary history. Each league has a particular charm and the same is true for individual clubs. When there is something concrete arrives we will evaluate all together, analyzing the various factors".
Sucic is not a new name on AC Milan's radar. The Rossoneri have been following him since 2020 when a transfer for Szoboszlai was discussed with the Austrians. The 20-year-old Croatian international has become a key player for Red Bull Salzburg ever since. Despite his young age he has close to 90 appearances for Salzburg.
While Okafor's contract expires in a year and a half, Luka Sucic is bound to Salzburg until 2025. The central midfielder has a price tag of at least €25 million according to reports. The Rossoneri will continue to have a close eye on his performances throughout the year.
---
READ MORE: Van Dijk names AC Milan forward as his most toughest opponent EVER