AC Milan address rumors on Donnarumma's replacement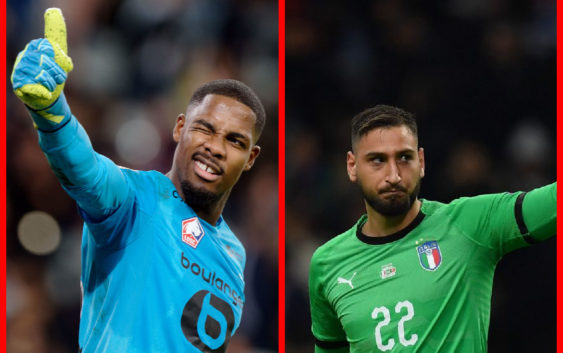 Rumors have emerged today on AC Milan's interested in Lille goalkeeper Mike Maignan to replace Gianluigi Donnarumma.
The international break has started and Serie A will take a rest for nearly two weeks with mercato rumors taking center stage. As expected, Hakan Calhanoglu, Gigio Donnarumma and their respective renewals dominate the headlines. Yesterday it was the Turkish midfielder to reveals that he's a Galatasaray fan, a team for which he would like to play one day. Today it was Donnarumma's turn.
The Rossoneri have failed to extend Donnarumma's contract so far and several Italian newspapers, but also French, have reported on AC Milan's interest in Mike Maignan. The 25-year-old Lille star is reportedly the top target Paolo Maldini is considering to replace Gigio.
According to reports, the Rossoneri management are losing patience with the Italian goalkeeper. Gianluigi Donnarumma currently earns 6 million euros per season and is about to become a free agent in a few months. Milan have offered him a new contract at €7.5 million for the next 5 years but Mino Raiola insists for 10 million and a shorter contract.
Maignan is emerging as one of the best goalkeepers in Europe. He has recorded 18 clean sheets this season, attracting the attention of many clubs with his performances. Donnarumma on the other hand remains a key figure for Milan. He insists he wants to stay but looks unwilling to lower his economic claims.
AC Milan, through Mauro Suma, referenced the rumors on Mike Maignan. Suma writes that: "Let's not throw ourselves into the usual speculations. As far as I know, the Club is working to convince Gigio to stay with us. Milan are not looking for other goalkeepers". It looks like Donnarumma's renewal is the only option the Rossoneri are considering… at least for now.
---
READ MORE: AC Milan's worst signings ever