AC Milan U16 Champions of Italy (goals & highlights)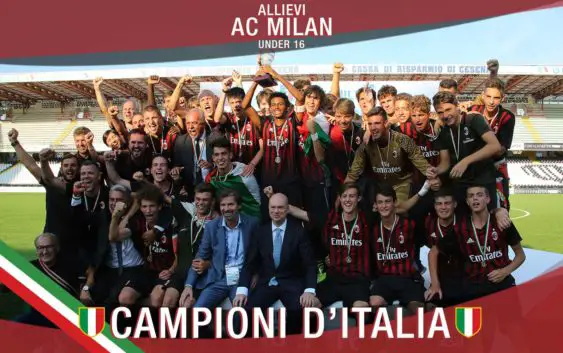 AC Milan Allievi U16 defeated Rome U16 to become the winners of Scudetto 2017. A spectacular match won 2-5 by the rossoneri.
AC Milan Allievi U16 are Champions of Italy. They beat Rome in a spectacular match that ended 2-5 in favor of the young rossoneri. Both, the midfielder Siaka Haidara and attacker Riccardo Tonin managed to score a double while the defender Gabriele Basani also joined the scoresheet. The first half finished 1-3 for Milan but the rossoner Rome reopened the match with a quick goal in the beginning of the second half.
Two goals in the las minutes of the game sealed a well deserved win and an important step forward for Milan's youth sector. Part of Milan was also the attacker, Daniel Maldini, son of the legendary defender Paolo Maldini. Maldini senior must be proud by the result and by the fact that the Maldini dynasty at Milan continues ahead. The first title for the Chinese ownership come from the very young Milanistas.
Roma U16 vs Milan U16 Highlights
Marco Fassone and Massimiliano Mirabelli attended the match and after the win released a short interview for Milan TV. "I am very happy, i told the guys before the game. We are proud to have achieved this result, it's very important to us. Today, under the scorching heat you resisted till the end and rightfully achieved this triumph. It's an unexpected one and it's filled full of joy.
The merit of this triumph goes to all the team and to manager Filippo Galli that with concrete results demonstrated Milan's belief in the youth sector. This is a good omen for the future, No one hides the fact that winning does well. For those who believe in Kabbalah, this is a good start, i hope this success is just the first of a long series to come".