AC Milan vs Juventus, that time Abbiati…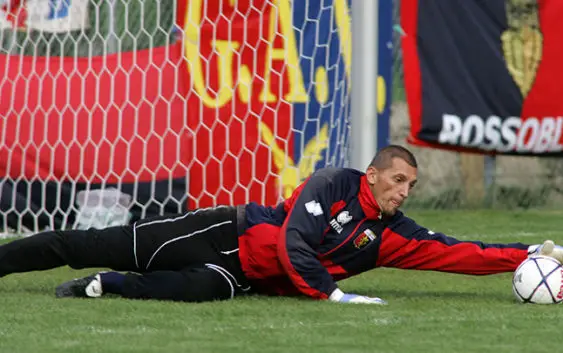 In the eve of AC Milan vs Juventus, the rossoneri via acmilan.com remember the sweet revenge without Christian Abbiati on October 2005.
The 2004-05 and 2005-06 seasons saw a great rivalry between AC Milan and Juventus. Not only were both teams at their peak in those years, but Fabio Capello in the manager's seat for Juve had given that clash a taste of revenge which "Don Fabio" wanted to take against his great Red and Black past. AC Milan v Juve: the clash of the Titans, of the legends, of the aces… Rossoneri and Bianconeri faced each other four times: Juve won the match that meant the Scudetto title in May 2005, in Turin, it was 0-0 twice, but in November 2005 it was AC Milan's turn…
https://www.facebook.com/ACMilan/videos/10154901332081937/
FROM 'TROFEO BERLUSCONI' THROUGH THE RED AND BLACKS' HAT-TRICK
During 'Trofeo Luigi Berlusconi' in August 2005, as the Rossoneri scored the opening goal, Gianluigi Buffon injured his shoulder. Juve had lost their "giant" and it wasn't going to be for a short time. The Red and Blacks had picked Dida, Eleftheropoulos and Fiori as the three goalkeepers for the squad. Christian Abbiati was not on the list as he was loaned out to Genoa but was back at Milanello as the Rossoblu were demoted.
AC MILAN'S NOBLE GESTURE
Both to give Christian Abbiati the opportunity to play in an important club, but also as a gesture to Juve after Buffon's injury in the tournament named after his father, Silvio Berlusconi offered the Turin Club a season-long loan of Christian as 'compensation for the damage'. The offer was accepted, also because Fabio Capello's relationship with the Red and Blacks' president was very good and he was well aware of the qualities of the goalkeeper. And this was how 'Abbia' started loantrotting through to 2008, first at Juve, followed by Atletico Madrid and then Torino. But in the end, he was back playing for AC Milan… for good.
AC MILAN v JUVENTUS: ABBIATI'S NAME IS NOT CALLED OUT BY THE ANNOUNCER
29 October 2005: it was AC Milan v Juventus, again, with the Rossoneri, runners-up in the Champions League, but wounded by the two nightmares against Juventus, at San Siro and Liverpool in Istanbul and the Bianconeri Serie A reigning champions. Buffon was still ruled out and everyone was waiting for Abbiati's debut as AC Milan's opponent at San Siro. But the former Red and Black was forced to forfeit the meeting with the Red and Blacks' announcer giving Juve's line-up without him and with Chimenti in goal. AC Milan scored to beat the visitors' third goalkeeper three times through Seedorf, Kaká and Pirlo. Final score: AC Milan 3 Juventus 1
AC MILAN 3-1 JUVENTUS 
AC MILAN: Dida, Stam, Nesta, P. Maldini, Serginho, Gattuso, Pirlo, Seedorf I (86′ Kaladze), Kaká, Inzaghi (69′ Vieri), Gilardino (79′ Cafu). Coach: Ancelotti.
JUVENTUS: Chimenti, Zambrotta, Thuram, Cannavaro, Pessotto (42′ Chiellini), Camoranesi (58′ Mutu), Emerson, Vieira, Nedved (71′ Del Piero), Trezeguet, Ibrahimovic. Coach: Capello.
Referee: Bertini.
Goals: 14′ Seedorf (M), 26′ Kaka (M), 45′ Pirlo (M), 76′ Trezeguet (J).
---
---