Arnault and Allegri for a new AC Milan?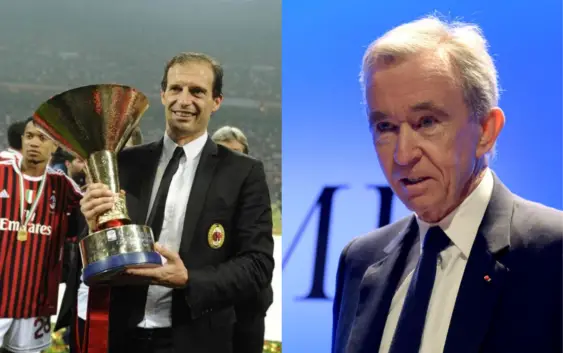 Elliot Management could sell AC Milan to French billionaire Bernard Arnault for €960 million
a
report claims.
The Italian press continues to insist the at the end of the season Elliot Management Corporation will sell AC Milan to French billionaire, and Louis Vuitton owner, Bernard Arnault. La Repubblica reports that the head of the LVMH group intends wants to enter the football world and associating AC Milan with his group of luxury brands would be quite lucrative for both parties.
When Elliot took control of AC Milan last year after the bankruptcy of Yonghong Li they announced a 5-year project that would culminate with the Rossoneri's participation in Champions League and the sale of the club for a figure of nearly one billion euros.
According to reports, Elliot have agreed to lower the selling price of AC Milan from €1.2 billion to €960 million. An investment bank based in London is reportedly negotiating the passage of AC Milan from Elliot to Bernard Arnault, the third richest man in the world. But that's not all.
La Repubblica writes that the ownership transfer could happen during the New Year period and Arnault is already thinking about the changes that will happen at San Siro once he takes over. Former Rossoneri coach Massimiliano Allegri is his number one pick for the bench. LVMH group wants a name of international stature to lead their new project. Allegri is also the last coach to have won the Serie A with AC Milan.
The 70-year-old French entrepreneur has a net worth of nearly $100 billion. Except Louis Vuitton, the other brands owned by Bernard Arnault are Moet & Chandon, Dom Perignon, Hennessy, Dior and Bvlgari. So far, the Arnault family has denied rumors that they are interested in acquiring Milan.
READ MORE: Mourinho talks with AC Milan confirmed