Arsenal ask fans if they would have awarded a penalty and the results are surprising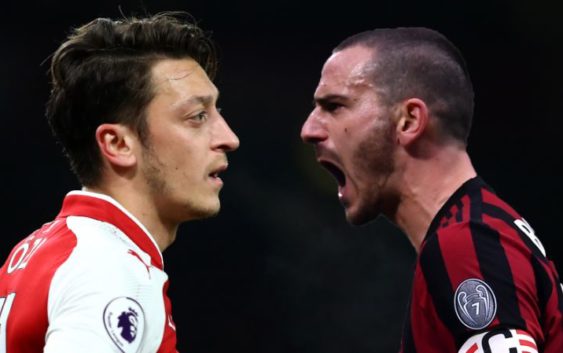 Arsenal ask fans if they would awarded a penalty and the results are surprising
Arsenal, during yesterday's match with AC Milan, posted a poll on their Twitter profile regarding the penalty kick granted to the team of Arsene Wenger after the shameful dive of Danny Welbeck. An episode that generated many protests from the Rossoneri.
In the Twitter poll, 74% of voters (nearly all Arsenal fans) opposed the decision of the Swedish referee. It was clear that it was not a penalty and the fans agree in an overwhelming majority. The remaining 26% (percentage that seems too high, to be honest) believes that the penalty was right. However the images are clear, there was nothing to whistle. In fact it was Welbeck who should have been punished for his Olympic dive.
📊 Lots of protestations from the @acmilan players when we were given our spot-kick…

Would you have awarded a penalty?#AFCvACM

— Arsenal FC (@Arsenal) March 15, 2018
Mirabelli: With VAR would have been a different result. Donnarumma…
Massimiliano Mirabelli's interview at the end of Arsenal-Milan: "We have a bitter taste, we think we have not been inferior to Arsenal, but unfortunately the San Siro match conditioned us however today we fought and we tried. We are AC Milan and we have shown it, we have held the pitch well. I feel sorry for certain episodes, if there was the VAR, the game would have had a different result".
On Calhanoglu's goal: "Good but not only him, all the new ones must be expected because they have potential".
Milan strengthened by this match? "Absolutely, we have shown that we have a big team mentality. Without the unpleasant episodes I do not know… maybe UEFA should reflect… In Italy certain errors are corrected, thank goodness we have it. VAR is something positive".
On Donnarumma: "His mistake aside, he made a great performance. We want him to stay with us for a long time, he's one of our jewels and of all Italy. We keep him tight.
The biggest regret: "The first half at San Siro and today's refereeing episodes.
Calhanoglu: Scandal, referee was the man of the match
Hakan Calhanoglu was interviewed by Milan TV at the end of the match: "We played well and it's not easy to do it here in London. We scored and then we were punished by an incredible penalty. It's scandalous, it's not normal in that Europa League this things happen. Rodriguez didn't even touch him but for the referee it was a penalty. It's obvious that the episode changed the game. The referee was the man of the match today, I will never forget it".
Jacobelli: "AC Milan suffer colossal theft"
Xavier Jacobelli, sports journalist, analyzed the Europa League main event (focusing in particular on the penalty granted to Arsenal): "What happened in London is a colossal theft, an ignoble episode. Indecent the penalty granted to the hosts. Collina will never comment on the mistakes of referee Eriksson. A pity because Milan were playing an excellent match, without fear and with a good tactical organization".
Despite the result, this match confirms that Milan of Gattuso is now a a force to be reckoned with? "That's the impression, AC Milan's performance shows that the growth process of the young Gattuso team is on the right track".
ARSENAL (4-3-2-1): Ospina; Bellerin, Koscielny (11' Chambers), Mustafi, Monreal; Ramsey, Xhaka, Wilshere; Mkhitaryan (69' Elneny), Ozil (79' Kolasinac); Welbeck.
Subs: Cech, Chambers, Kolasinac, Maitland-Niles, Elneny, Iwobi, Nketiah. Coach: Arsène Wenger.
AC MILAN (4-4-2): G. Donnarumma; Borini, Bonucci, Romagnoli, Rodriguez; Suso, Kessie (80' Locatelli), Montolivo, Calhanoglu (70' Bonaventura); Cutrone (67' Kalinic), André Silva.
Subs: Storari, Musacchio, Zapata, Biglia, Bonaventura, Locatelli, Kalinic. Coach: Gennaro Gattuso.
Referee: Jonas Eriksson 
Goals: 35' Calhanoglu (M), 39' Welbeck (PK) (A), 71' Xhaka (A), 86' Welbeck (A)
Booked: 39' Rodriguez (M), 40' Donnarumma (M), 40' Romagnoli (M), 42' Borini (M), 45'+2' Montreal (A), 61' Suso (M)