Barcelona make surprising offer for AC Milan defender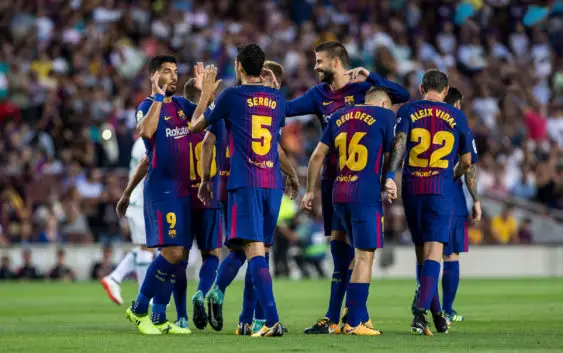 Barcelona are interested in AC Milan left-back Ricardo Rodriguez. The Swiss defender is on the market after the signing of Theo Hernandez.
MILAN TRANSFER NEWS – The arrival of Theo Hernandez will have an effect on the other left-backs currently in the squad. AC Milan will pay Real Madrid €20 million for the 21-year-old full-back and considering the important investment Theo will likely be the regular starter on the left. His signing translates into the sale of Ricardo Rodriguez.
The Rossoneri now have three left-backs that will become four with Hernandez. Between Rodriguez, Diego Laxalt and Strinic, at least two will be sold this summer. Ricardo Rodriguez won't accept to become Theo's back-up and with Barcelona interested in his services he won't mind a new experience in Spain.
Sport reports that Barcelona are looking to improve their full back situation and Jordi Alba hasn't had a genuine challenger for his place in the team since Lucas Digne was sold. After failing to reach a deal with Borussia Dortmund for Raphael Guerreiro and Real Betis for Junior Firpo, Barcelona have turned their attention to Ricardo Rodriguez.
The Swiss international is 26-year year old and doesn't have a high cost. He offers more cover in defence than Jordi Alba and can play as centre back too. Considering the situation, AC Milan would be happy to sell Rodriguez for a fair price this summer.
AC Milan signed the former Wolfsburg for nearly €15 million euros in 2017. Rodriguez has been a regular starter at San Siro for the past two years making 87 appearances in all competitions with the Rossoneri. The sale of every player that can guarantee a capital gain would allow Milan to soften their difficult relationship with UEFA.
According to the Spanish news outlet Barcelona have offered AC Milan €15 million for Ricardo Rodriguez. The sale of Swiss left-back at this price would allow Milan to make a capital gain of nearly 8 million. However, the Rossoneri are believed to be holding out for an offer of around 20 million.
---
Read here OFFICIAL – AC Milan announce second summer sale
---
Read here Lyon confirm Milan target sale