Gattuso comments on Chievo, Musacchio, Andre Silva, penalty kickers and Kalinic exclusion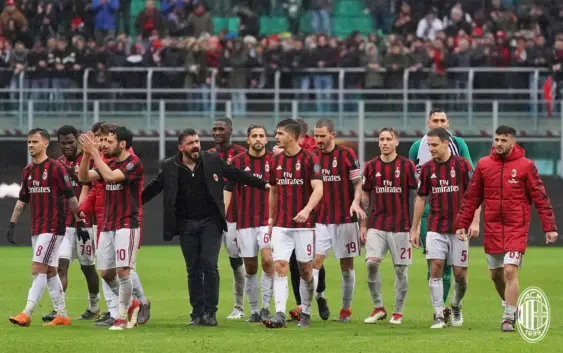 Coach Gattuso comments on today's difficult victory with Chievo and on many other important issues like Musacchio, Andre Silva, penalty kickers and Kalinic exclusion.
On Musacchio: "He excited me today but he's not very happy. I preferred Zapata and not him today but he's a South American of the real ones, he's one that in the locker room acts like a real leader. He's the type of player I like. He deserves all the best things in the world, he's one that speaks directly to your face".
What he said to the team during the break: "We know, both me and the players, that we can not afford to make mistakes today in order to qualify for Champions League. On Friday we trained very little, having returned from London at 6 in the morning. Yesterday we prepared the match in a way I don't like, with fear of losing a few players. We have many player struggling with injury. Rodriguez had muscular problems but we risked him anyway. Today I saw a team that wanted to win at all costs".
On Andre Silva: "Believe me, he's a guy with incredible professionalism. He never stops, he's in the gym, he comes out and asks if we can do another session of shooting or athletics. He has a lot of room for improvement, he's doing amazing things in training. Now he's going strong, I asked him for venom and now he's delivering".
On the contract renewal: "For my part there is no problem. My priority is to win as many games as possible. Neither I, Fassone, or Mirabelli run away from our responsibilities. I have another year of contract. I may earn little money but I have it (laughs)".
On the penalty kicks: "It is the first penalty that Kessie misses: the team's penalty takers are Kessie and Rodriguez".
On Kalinic: "I do not bear a grudge in my life, tomorrow is another day I have always told my players to be professional, to have a sense of belonging and desire. When I do not see this I make decisions, regardless of who it is, because I do not want to lose credibility with my players. I do not want to see people with the handbrake on. I prefer that you do not train if you feel it's not your day".
On the game and the end of the match: "My players have to rest, we all need to rest. I told them we'll see each-other on Wednesday and that they must enjoy their time with their families. I have a team that is gritting their teeth, because they have given so much on a physical level. I'm very happy, I knew there would be a lot of struggle. The international break will serve us good".
---
---