Gazidis wants World Cup winner to replace Kjaer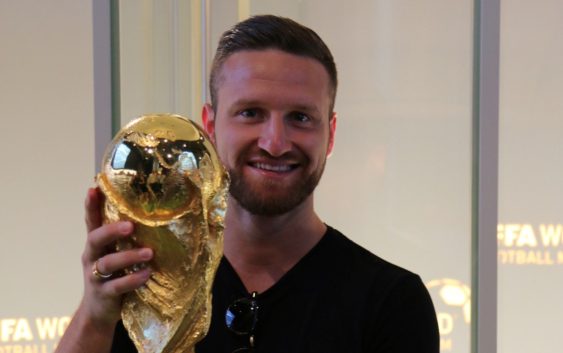 AC Milan could replace Simon Kjaer with Arsenal defender Shkodran Mustafi, a favorite player of Ivan Gazidis.
Waiting to find out if AC Milan will really sign Simon Kjaer on a permanent deal or not, the management is already looking around for reinforcements in defence. Spanish portal TodoFichajes reports that Milan are interested in Arsenal defender Shkodran Mustafi.
The contract of the 28-year-old defender expires in 2021 and the German international is on the market. According to the Spaniards, despite spending €41 million in 2016, Arsenal are willing to sell Mustafi for around 10 million. An affordable figure for Elliott Management.
Mustafi represents a good solution for the defence in case Milan opt against the permanent transfer of Kjaer. The World Cup winner has past experienced in Serie A having previously played in Italy with Sampdoria. The good performances in his two years in Italy earned Mustafi a place in the German national team that conquered the World in 2014. He later won a Confederations Cup with Germany and two trophies with Arsenal, the FA Cup and Community Shield.
Shkodran Mustafi is an element of experience and quality that could be useful for Milan. As a back-up player but also as a possible partner for captain Alessio Romagnoli. The German, given his style of play, also fits the strict criteria of Ralf Rangnick, a coach who likes quick and physically strong defenders.
Rossoneri CEO Ivan Gazidis was a big sponsor of Mustafi when he joined Arsenal and would love to have him at Milan. The presence of the former Arsenal executive could facilitate a deal between the two clubs. His price tag of 10 million euros is an affordable figure for Milan. This isn't the first time Milan are linked with Mustafi. Last summer, Gazidis suggested his name to Maldini and Leonardo.
After falling down the pecking order with Emery, the German is again a regular starter under new coach Mikel Arteta. This season he has made 18 appearances. The 28-year-old is a flexible defender that can also play on the right in case of emergency.
---
READ MORE: Juventus make sensational offer for Romagnoli