Why Donnarumma has chosen to stay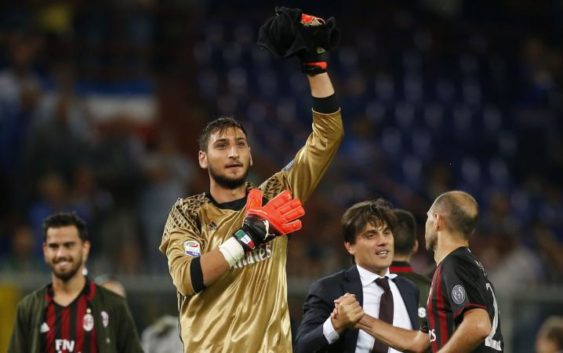 Gianluigi Donnarumma will return in Milanello after the disappointing U21 European with Italy. Carlo Pellegatti explains why the young goalkeeper will sign a new contract with AC Milan.
By now, only the signature is missing. Then we will enjoy Gigio Donnarumma's beutiful performances for another five years. At least. Because he has decided to continue his magnificent Milan history and it's not so difficult to explain why. This choice is primarily due to the humility and intelligence of the boy, almost never separated from each other.
In this sense, the negative experience during the U21 European has been of great teaching. This is not a severe judgement because, in Poland, Gigio never wore the legendary costume of the miraculous Zeus Ammon, the oracle. The rossonero Donnarumma is another thing. They were not easy shoots towards the goal, but they were not unsaveable for the eagle eye Gigio. It's not the fault of the U21 national goalkeeper coaches but the young shot-stopper is used to another type of job. When a pure blood horse changes his coach, he can worsen his performance. Perhaps he loves long quiet walks while the new trainer instead prefers quick work.
The result? A muted performance, even if the horse has not lost its qualities. Donnarumma has always known Alfredo Magni as his trainer, not just a simple preparator, but a scientist, to whom Milan has wisely entrusted the rossoneri academy. It is fascinating and instructive to follow the training of Magni and his collaborator Bianchi. Then, behind them, is a camera that does not miss the slightest imperfection of the goalkeepers, to revisit later, to understand, to learn, to study. This is how he became the great Gigio. The youngsters Plizzari, Soncin and Guarnone have been growing up under the guidance of keepers like Diego Lopez, Abbiati and Storari.
Donnarumma is not staying at Milan only because it's his house, only for the affection of the fans and especially the children, not for the hefty salary, that now he has to merit, day after day, match after match. No, the real reason is another. Leaving Milan and Alfredo Magni's methodologies would stop his growth and interrupt his "Road to the Best", his ascent to the Platonic empire.
Donnarumma understood in time and above all his agent Raiola. Fortunately for Milan but especially for him. From July, therefore, the trees of the rossoneri's sports center will still hear a shouting voice with a slight Brescian cadence: "Bravo Gigiooo". While an eagle, passing by mount Rosa, will continue to not understand how a boy, without wings, can fly so on the green meadows of Milanello.