Inter challenge Milan for two Italy stars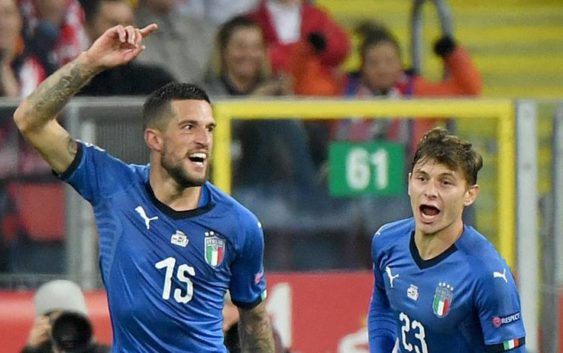 A derby that will be played beyond the pitch. Inter challenge 
AC Milan this Sunday but their confrontation will continue even on the transfer market.
At only 21 years old, Nicolo Barella, Cagliari's star, has already shown he deserves a great audience. The young central midfielder offered a good display against Poland in UEFA's Nations League with Italy, attracting the interest of big European clubs. The Azzurri, therefore, have provided even more visibility to the Rossoblu gem, for which AC Milan and Inter are elbowing each-other since last summer.
COMPETITION – Nicolo Barella, as La Gazzetta dello Sport points out, enjoys an exceptional sponsor like Radja Nainggolan (both are represented by agent Alessandro Beltrami), but Leonardo certainly has no intention of giving up.
Recently, reports La Gazzetta, the Rossoneri sporting director, has inquired on his availability, fully intended to play his game in view of the summer transfer window. In January, in fact, Cagliari will hardly deprive themselves of the 21 year old midfielder, also followed by some foreign clubs like Arsenal and Liverpool. Regarding the price tag, Cagliari pretend 40 million euros for Barella.
BIRAGHI – Another position, another target in common. That is Cristiano Biraghi, left back of Fiorentina and of the Italian national team. In July the Rossoneri had negotiated the purchase of the 26 year old defender to replace Ricardo Rodriguez.
Everything changed when new owners Elliot took charge of the club and blocked the sale of Rodriguez. Biraghi, however, remains in the radar of AC Milan and the Swiss defender's future at San Siro is still in doubt. Coach Gattuso, by the way, is Biraghi's main sponsor. Inter are also very interested in bringing home their former youth product.