The luxurious business life of AC Milan former captain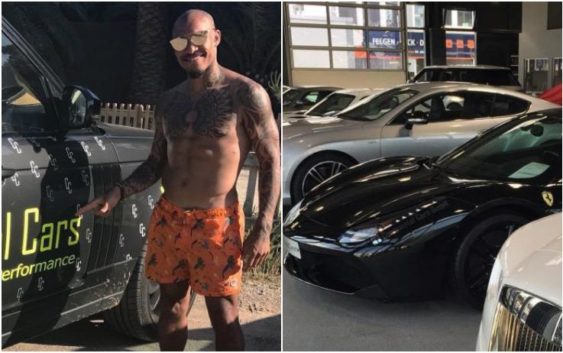 Former Manchester City hero and AC Milan captain Nigel de Jong is the owner of Continental Cars, a showroom founded in Hamburg in 2007 with all the most important luxury cars and a wealthy clientele.
The most classic pair in the football world is the following: "Footballers and luxury cars". Because they have the best and most expensive sports cars, we know that. Nigel de Jong, former AC Milan and Manchester City midfielder, has made this stereotype his own, getting a good deal on it.
The ex Netherlands international made 96 appearances for the Rossoneri between 2012 and 2016, scoring 7 goals. De Jong was a fan favorite during his three and a half season at San Siro. The Rossoneri supporters appreciated his fighting spirit and in May 2014 his only goal decided the Milan derby. Today he is 37 years old and retired from football last summer after spending the last season in Qatar with Al-Shahania. In 2017 de Jong decided to start cultivating another great passion of his founding the Continental Cars.
The Dutch defensive midfielder is a luxury cars businessman. The showroom has got everything from Bentley, Ferrari and Lamborghini and Maseratis. A passion, that of business, inherited from his grandfather, a managing director of Ford in Holland: "He was always on time – says Nigel – he made sure that payments to employees were never late. I looked up to him, on and off the pitch I wanted to be like him. I think he transmitted his professionalism to me as a player too". Apparently selling cars runs in the family.
De Jong started to think about life after football since he was a youth player at Ajax. He graduated with an economics degree with a clear idea of what to do in the future: become an entrepreneur. The garage of the former Milan captain has some of the most extravagant cars on the market: Lamborghini Aventadors, Bentley Continental GT and GTC, Wiesmanns, Maseratis, Ferrari F430 and the list goes on.
All very expensive automobiles. So it's no wonder that stars like Mesut Ozil and Lukas Podolski (former Bayern Munich and Inter) are among his clients plus some Gulf state oil sheikhs and business people.
"God gave me the talent and the strength to become a football player, which gave me the financial resources and empowerment to improve in other areas. I think it's so important for football players to be smart with what they do with their salaries, because it can become an investment or be gone before you know it", concluded the Premier League winner.
---