Towards Inter-Milan: Gattuso's stats as player and coach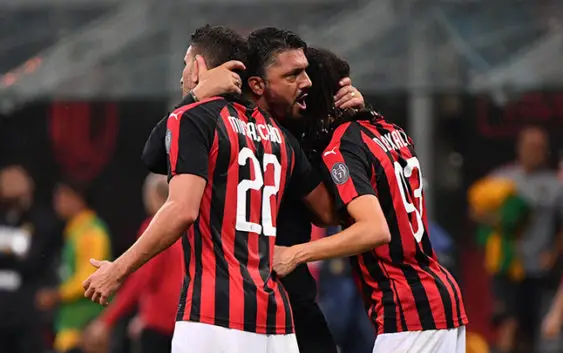 Only a few days remain until the first Derby di Milano for this season and Gennaro Gattuso is eager to deepen his positive streak against Inter.
On Sunday Inter host AC Milan in the first Derby della Madonnina for this season. Inter are currently third in the standings and are going through a great period with 6 consecutive victories. The Rossoneri however have recovered lately and arrive in the derby with three wins in a row, Europa League included.
It going to be a special match and the spectacle is guaranteed. But for Gennaro Gattuso this match means something more. In his 13 years as a Rossoneri player the former defensive midfielder has encountered the Nerazzurri on many occasions and his stats are on his side. In fact Gattuso broke into the starting line-up after his first Milan derby match. The 24 year old impressed when he faced Inter striker Ronaldo, who was widely considered as the best player in the world at the time.
While a player of the glorious Milan, Rino challenged the city rivals in 29 matches. He has has won 15, lost 9 and tied 5. Gattuso took charge of AC Milan last November and in his two appearances as coach of the Red and Black he has won one (1-0 in Coppa Italia) and one game ended in draw (0-0 in Serie A). As coach, Rino is unbeaten against the Nerazzurri.
Another derby man is Gonzalo Higuain. The Argentine has played 16 derbies in his career, losing only one, that is the final of the Coppa del Rey against Atletico in 2013. Within the ninety minutes, only wins and draws for El Pipita, with 11 goals scored. The 30 year old striker is eager to continue his positive tradition on Sunday against Inter.
---
---