Is AC Milan Out Of The Title Race For This Season's Scudetto?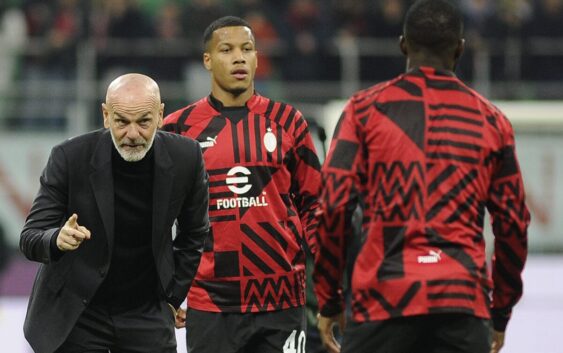 The 2021-22 season was a memorable one for AC Milan, as they finally ended their ten-year wait for a Serie A title. It was an unexpected success in many ways, at least that's what it appeared like across the rest of Europe outside of Italy.
But, Milan made themselves incredibly difficult to beat throughout last season, evidenced by the fact that they won ten of their opening 12 league fixtures.
However, this season hasn't exactly gone as smoothly for the reigning champions and it seems already that Napoli is in a single one horse race to win the title.
Does that mean that they are already out of the race for the Scudetto?
Retaining Title Looks Improbable
It already looks like a tall order for Milan to successfully defend the Serie A title this term, as they find themselves over ten points behind the runaway leaders Napoli. But, they could get back within reach if they are able to pick up maximum points in their game in hand. Consistency has been a slight issue for Milan throughout the season, despite the fact that they have lost just twice in 18 league outings.
Draws have been their biggest issue to this point, as they have been held on five occasions, including two draws in the opening four rounds of the season. No side in the top four positions have been held to more draws so far this season, and it has stifled their progression to the top of the standings. That has especially been the case away from home, as they have drawn four times, and claimed just four victories from nine games.
Still Half A Season Remaining
Due to the World Cup taking place in the winter, you'd be forgiven for thinking that we are already halfway through the Serie A season. However, given that there was a break for over a month, most teams in the Italian top flight have only played 19 games, meaning that we have only just got to the midway point of the campaign.
Therefore, it isn't impossible that Milan could close the gap at the top of the standings to mount a serious championship battle this term, especially if they were to rediscover the consistency that they enjoyed last season.
Teams across Europe have often come back from ten-point deficits in the second part of the season, but Milan will be relying on a collapse by Napoli, which hasn't looked likely to this point.
Napoli Storming Towards The Title
While last season was all about Milan ending their long wait for a Serie A title, this term is all about Napoli. The team from Naples has only been crowned Italian champions on two occasions, with their most recent success coming in the 1989-90 season.
However, few could argue against the fact that Napoli has been the standout team in Europe so far this season. They have won 16 of the 19 Serie A games that they have played, and they were the final team in Europe's top five divisions to lose their unbeaten record.
However, their response to that first defeat of the campaign has been impressive, as they have won their last three to restore their advantage at the top of the standings. In fact, no team in the title race has managed to put together a run of four wins in their previous five aside from the runaway leaders.
The Napoli form makes it even harder to suggest that Milan will be able to get back into the title race, which means that the goal for this season will likely center around their challenge to finish in a Champions League spot.