AC Milan new management given humiliating lesson by Marotta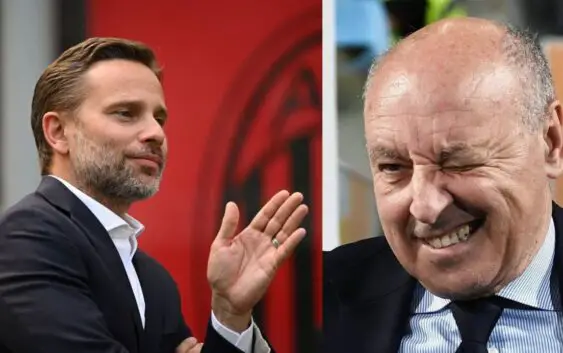 Inter have snatched Marcus Thuram from
AC Milan with old fox Giuseppe Marotta giving a tough lesson to Furlani and Moncada.
The situations goes from bad to worse for AC Milan. In an unexpected turn of events the Rossoneri decided to sell Sandro Tonali to Newcastle. A player much loved by the fans and who was projected to be the future captain. At the same time Milan have lost Marcus Thuram to inter in a shocking move. 
AC Milan had made Marcus Thuram their primary transfer target for the attack even since Maldini was in charge. However, the new management took care of negotiations in the most amateurish way. Giorgio Furlani and Geoffrey Moncada have been given a brutal and painful lesson by Inter veteran Giuseppe Marotta.
The Rossoneri negotiated for Marcus Thuram for endless weeks and months only for Inter to close everything within 24 hours. The AC Milan management had reached a verbal agreement with Thuram a while back, ever since PSG pulled out of the race for the French striker. Nevertheless, no signature was coming.
While the 25-year-old was using Milan only to get better personal terms from other clubs, Milan were not pushing to get things sealed. The player was never given an ultimatum. Instead Furlani continued to accommodate his request and fall for the upping game the player and his agent were playing. The obvious lack of enthusiasm from Thuram to wear the Red and Black colors was also ignored by the management. This is a totally different approach compared to the past when Maldini and Massara would never go ahead with players that were in talks with multiple clubs and did not show strong desire to join AC Milan.
Instead Inter were much more precise in their movements. The city rivals offered Thuram a five-year contract worth €6 million per season with a clear message: In or out. Inter's interference was initially considered just a disturbance by Furlani until the player notified him he would be joining the Nerazzurri. Thus Giuseppe Marotta gives a harsh and humiliating lesson to Furlani and Moncada on how things are really one.
---
READ MORE: AC Milan's worst signings EVER