Maldini sends message to Rafael Leao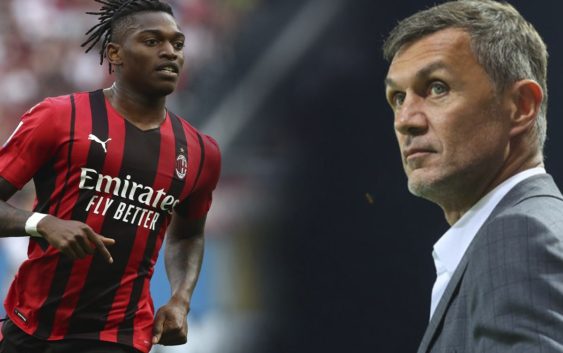 Paolo Maldini makes it clear that AC Milan want extend the contract of Rafael Leao but it depends on what the player wants to do.
Rafael Leao is no longer a surprise. The criticisms of those who first asked him to be decisive and then to find continuity seem distant. Over the past year, the Portuguese has met all these demands. The 23-year-old left winger has become a leader on the pitch for his squad. Even at times when he seems quiet, you know that at some point he can suddenly invent something.
AC Milan are certainly enjoying his performances. As highlighted by Gazzetta dello Sport, it is now impossible not to consider Rafa Leao an absolute top player in his role. Rafa is one of the great talents of European football. With yesterday's performance (and not only), the Portuguese once again certified his champion status.
He earned a penalty and provided a perfect assist for Alexis Saelemaekers. Leao has yet to find his first Champions League goal. However, with 3 goals and 6 assists in 8 appearances so far it's only a matter of time before he finds the back of the net in Champions. Even mentally Leao seems to have definitely matured.
AC Milan have no intention to let him leave and Paolo Maldini is working to extend his contract. The contract renewal is the only shadow on Rafa Leao's impressive start to the season. The flamboyant winger, at the moment, does not seem to feel the pressure of the negotiations, quite the contrary. Nevertheless, the Rossoneri can't allow to have another Donnarumma-like situation in their hands.

Before the match the match against Dinamo Zagreb, Paolo Maldini made it clear that AC Milan are the perfect place for Rafael Leao to be and continue to improve. "Leao's renewal? It is a question that we have already faced many months ago. Rafa knows that, to become even stronger, the best solution is to stay with us. We are a young and growing team. But we intend to do great things and grow with him."

"Chelsea made an informal offer for Leao in the summer but Milan decided to reject it. With Leao, Bennacer and Kalulu we started talking about their contract renewal for some time. Each renewal can be complicated or easy, it depends on the will of the players. That of the club is there.
---
READ MORE: AC Milan to spend big for new striker