Calhanoglu's incredible excuse for the red card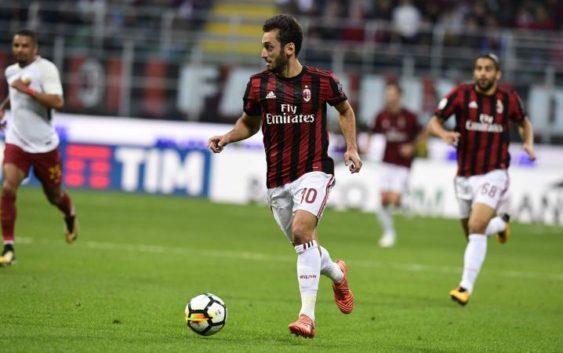 AC Milan's summer transfer business was considered by many as excellent. The rossoneri, in fact, decided to invest a lot in order to offer coach Vincenzo Montella a young squad, more ambitious and certainly of higher quality.
Among the great hits by the red and black club one can not help but mention Hakan Calhanoglu. Arriving in San Siro after some excellent performances with Bayer Leverkusen, where he become one of the greatest talents of the Bundesliga, the Turkish ace landed in Milano for the figure of 22 million euros, a fee that can be considered a real bargain given the player's qualities and the prices that circulated this summer.
Calhanoglu, who was immediately entrusted with the number 10 jersey, but so far he has been unable to express himself on his usual levels. The former Bayer has often made anonymous performances in the league, so much that his score speaks of seven matches with no goals and only one assist. The Turkish talent has been used by Montella especially in the role of central midfielder, a role not his own. Equipped with great dribbling and strong offensive abilities, he often tends to advance by letting his area exposed, which often creates suffering for the midfield department.
An ideal element for the 4-2-3-1 for which the new Milan seems to be build for, Calhanoglu risks a season of sacrifices in a role not his own, after Montella's decision to switch to 3-5-2. It was also seen against Roma in what was probably his worst season game so far. He alternated between good moments and others in which he seemed in tremendous difficulty and the double yellow booking (for him is the first expulsion since 2014) can be a symptom of the fact that the great effort required by him, in some cases, can force the 23 year old to lose a bit of lucidity.
After the game interviewed by Milan TV, Calhanoglu explained: "I'm sorry for the expulsion, Romagnoli and I misunderstood each-other, and in all sincerity, I did not remember having been booked with a yellow before. I'm sorry I will not be available for the derby, I apologize to everyone." With the restart of the league, after the international break, Milan coming from two consecutive defeats, will have to face Inter of Spalletti and will have to do so without Calhanoglu. Probably instead of him, Vincenzo Montella will insert Bonaventura from the first minute, another element of great value, though not really a central midfielder.