Leander Dendoncker: The complete midfielder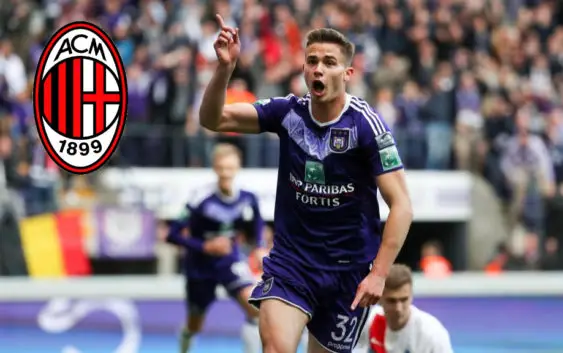 Mirabelli has identified Leander Dendoncker as the perfect signing for Milan midfield. Here's everything you need to know on the Belgium starlet.
Physic and quality. In modern football these two characteristics are fundamental in all areas of the field, but especially in midfield. Franck Kessie is not enough for AC Milan. That, among other things, still has to improve a lot to become a full-fledged footballer.
Massimiliano Mirabelli is hunting for interesting profiles that can enrich the rossoneri group and is concentrated above all on the median line. These days, with Serie A stopped and the national teams engaged around the world, the sports director has more time to follow some footballers. And in fact these days he has attended three matches. One of these was Belgium-Mexico, and rumors soon pointed to Leander Dendoncker, Belgian 22 year old midfielder of Anderlecht.
At 22 he has never moved away from Belgium. Grown up in Anderlecht's youth ranks, he is now an undisputed starter of the first team. He has a good physical stature (1,88 m), combined with good technique. His natural role is central midfielder. In front of the defense he is very skillful in recovering balls and setting up attacks. An imposing figure in midfield, he reads situations in the air very well and times his challenges to perfection. 
Another one of his key attributes is his versatility. He's become a regular in defensive midfield this season, playing at the heart of a 4-3-3 or along with a partner in a 4-2-3-1, but he's also featured at centre-half from time to time or in a more advanced role in midfield where he has greater access to his creative side and passing range. He also has the potential to become a box-to-box player, with his fine dribbling qualities on the ball and endless stamina off it being central to his playing style and key traits. In short, a completed player with still plenty of room for improvement.
https://www.youtube.com/watch?v=FhXxAYHfkPw
According to transfermarkt parameters, Dendoncker should cost at least 17 million. But Anderlecht's rating is much higher, probably 25-30 million. Impossible signing him in January, but he remains an idea for next summer, when the footballer himself might think of making a big leap forward and dressing an important jersey. AC Milan, however, has to pay attention to the usual competition. Dendoncker has features that fit perfectly into a league like the English one. And in fact, Premier League clubs have his name marked on various notebooks as a potential transfer target for a long time with Manchester United interested the most.
---
---