4 Alternatives to replace Lucas Biglia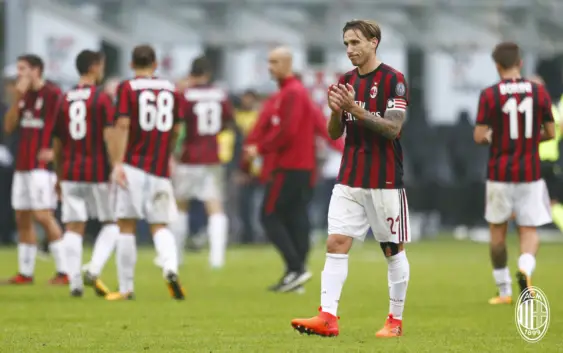 His impact on AC Milan's game is not highlighted enough but Lucas Biglia is perhaps Rossoneri's most important player and his injury is a big headache for Gattuso.
Seeing Lucas Biglia out of San Siro on crutches, Wednesday evening, was a clear bad sign, considering also the obvious concern painted on Gattus's face. Later in the press conference Rino predicted "He will stay out for long". And so it will be, according to the first medical exams Lucas Biglia has suffered an injury on his right foot. Recovery time? It's difficult to give an exact date at the moment but it's likely we will see Biglia on the pitch next year.
TWO DM's – The most probable solution to replace Biglia in these weeks, experimented in half against Genoa, is that of the double defensive midfielder with Bakayoko and Kessie. The former Chelsea has received praised from Rino after Milan-Genoa, although he made a big mistake that led to the temporary 1-1 equalizer. Surely the Frenchman could improve over the weeks, but it is clear that from this duo it will be difficult to expect playmaker-type performances.
FANTASISTI ADAPTATION – Paired with Kessie, in the recently implemented 4-4-2, there are two players who could try to replace the Argentine, exploiting their qualities as regista. We are talking about Calhanoglu and Bonaventura, with the first more favorite than the second, as already happened partially against Genoa. Gattuso deployed the Turkey international in the middle of the field to try to increase the quality level of the department but the experiment failed completely. It should be noted that the former Bayer Leverkusen star is not at his best form and is playing using painkillers. An important reason why such a tactical metamorphosis becomes even more difficult.
FROM BERTOLACCI TO MONTOLIVO – Bertolacci and Jose Mauri are two alternatives that can be used in midfield to replace Biglia, but until now they have found very little space. Especially the Italian, if he could find his best form of the Genoa years, he could be a worthy alternative, but so far has rarely seen the pitch. Bertolacci has featured only twice this season for a disastrous total of 80 minutes. Maybe in pair with Kessie, and a certain continuity of game time, he can become useful gradually.
And Montolivo? Characteristics considered he's perhaps the player who most resembles the Argentinean within the AC Milan team, but at the same time, paradoxically, he is the player with less chances of being used in that role. The former captain is out of the Rossoneri project and there seems to be no room for a change of course. Unless the situation does not change these days and Montolivo returns to do the job he's being paid for.
VOTE – Who should replace Lucas Biglia
[interaction id="5bdd9ea83f7d441b146cb943″]