Movements, shots and no-looks, Milan discovers Calhanoglu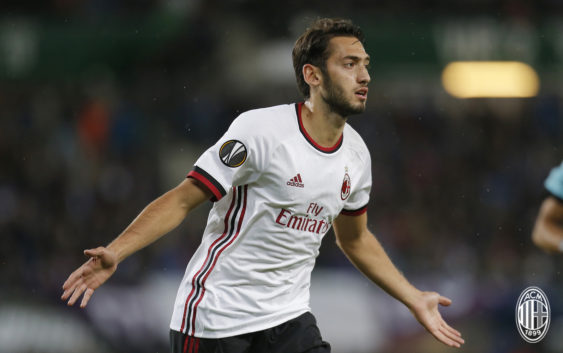 Calhanoglu was one of the most positive notes in Europa League victory against Austria Wien. With the recent module change Milan is starting to get the best from Hakan.
A goal, so much movement and then that no-look assist for Andre Silva. Finally, Hakan Calhanoglu is showing all his qualities on the field. The Turkish attacking midfielder was one of the best players (perhaps the best – read here the ratings) in the Europa League challenge with Austria Wien and tomorrow against Udinese could start again from the first minute.
A TALENTED NUMBER 10 – But Calhanoglu, writes La Gazzetta dello Sport today, did not become a strong player two nights ago. He has always had talent and played against opponents much stronger than the Austrians faced on Thursday. His season has yet to take off definitively but this will not change the opinion of the talented number 10 admirers, who have already put him in the list of the favorite Milan players. The 3-5-2 has enhanced his qualities.
THE SKILLS – In Vienna, emphasizes La Gazzetta, Calhanoglu, started from the centre-left and moved from there, playing all-round. He played as trequartista, as winger, sometimes even as third striker. Okay, he must be tested also in Serie A and maybe at certain rhythms can struggle but if we are talking about how to govern the ball he has no problems. Hakan is a player of high level, has the necessary skills… And now all Milan fans know it too.