Gonzalo Higuain injured: the situation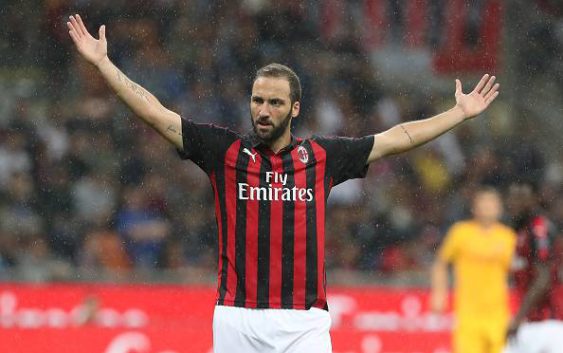 AC Milan won against Udinese in the last moments of the game but Gonzalo Higuain had to abandon the match early because of a back injury.
Milan Paradox. Oddity enough this period of positive results coincides precisely with a moment when the emergency room is full. After Calabria, Caldara, Bonaventura, Lucas Biglia and Hakan, Gonzalo Higuain is the latest player to join the long line of injured Rossoneri. The Argentine left the match yesterday at the 35th minute due to a back problem after a clash with Rolando Mandragora.
According to La Gazzetta dello Sport, the first evening diagnoses carried out immediately after the match speak of a bruise on the side. Nothing particularly serious in theory except that AC Milan face a tough trip to Spain against Real Betis on Thursday. An important match that may decide which team will lead the Europa League group F.  Without forgetting the upcoming big match with Juventus at San Siro.
The Dacia Arena is confirmed again as mined ground for El Pipita, who two and a half years ago received a heavy red card with Napoli, a crucial episode that decided the Scudetto race at the time. In a high tension competition, the Argentine lost his head just after scoring the 1-1 equalizer, furious with referee Massimiliano Irrati.
Since then, El Pipita has returned three more times in that stadium but without ever being able to score. Yesterday, the conditions seemed the right ones to reverse the trend. Higuain come close to scoring in the first 10 minutes of the match from a cross by Diego Laxalt. His shot unfortunately ended out.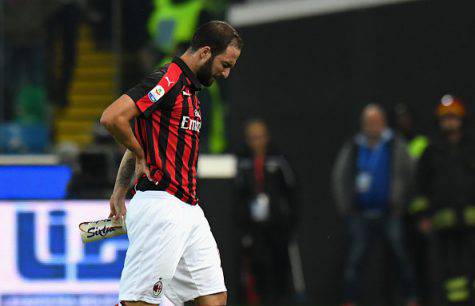 Gonzalo Higuain
After the match, coach Gennaro Gattuso declared for the media: "He felt pain in his back, he thought he had taken a hit but apparently he already had a problem there. We hope it's nothing serious". Very likely he will miss Europa League's match with Real Betis in order to stay fit for Juventus. In this important part of the season Milan can not afford to play without their top scorer.