Peace between Inzaghi and Cutrone after Milan vs Lazio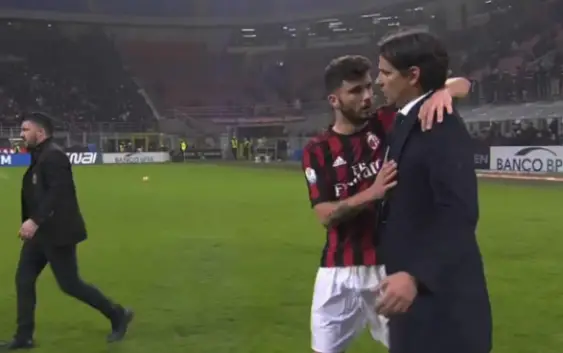 Finally peace between Simone Inzaghi and Patrick Cutrone at the end of Milan-Lazio yesterday in the Italian Cup. Not that the two had quarreled, but from the Biancocelesti coach there was some resentment after the Serie A clash.
Everyone will remember the episode of Cutrone's goal, spoiled by a touch of the attacker's arm. The Lazio technician, who had not yet seen the images, had asked him for an explanation: "Did you touch it with your hand?" Patrick replied: "No, mister, I hit it with my shoulder". Also indicating the point of the alleged impact. Later Inzaghi, after seeing the replay, said: "Probably if I had seen the images before I would have been less tender with Cutrone..."
No suspension for Cutrone, as someone had feared. Patrick, during the week, explained himself on Instagram. And yesterday after Milan-Lazio, the first leg of the Coppa Italia semi-final, the 20 year old Rossoneri striker went to the Biancocelesti coach for a definitive clarification.
He said he was sorry for what happened and for having seen his honesty questioned. He reiterated that at the time he really thought he had taken the ball with his shoulder, but instead from the replay he noticed that the ball also touched his arm. Inzaghi understood and complimented him on yesterday's performance where the youngster was close to another goal against Lazio. Case closed.
---
---